Maritime Vessels Directory
Filters
Type
Flag
Port
Companies
Year
Gross Tonnage
Tanker for Chemicals & Oil Products | Flag: Denmark | Port: SVENDBORG
Tanker for Chemicals & Oil Products | Flag: Denmark | Port: SVENDBORG
Tanker for Chemicals & Oil Products | Flag: Denmark | Port: SVENDBORG
Maritime News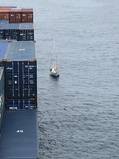 A 67-year-old man adrift for several weeks on board a disabled sailboat was rescued hundreds of miles miles off the coast of Alaska with help from a 984-foot containership and the U.S. Coast Guard.At approximately 9:00 a.m. Thursday, Coast Guard District 17 command center watchstanders received a distress alert from the sailing vessel Miss Lilly, in which the man aboard reported his vessel to be disabled and adrift roughly 500 nautical miles south-southwest of Dutch Harbor, and he was in need of assistance.The distress alert was communicated from the man's 406Mhz Emergency Position Indicating Radio Beacon (EPIRB) to a search and rescue satellite that relayed the message to the U.S.
Chevron Corp crude oil cargo has become embroiled in U.S. sanctions on shipping companies for violating restrictions on doing business with Venezuela, the company confirmed on Friday.Adamant Maritime Ltd, the owner of very large crude-oil carrier (VLCC) Seahero was sanctioned by the U.S. Department of Treasury on Tuesday for carrying a Venezuelan cargo in February. The vessel currently is heading to Asia after recently stopping in Trinidad and Tobago, according to vessel tracking data.The tanker on short term charter and "performing a voyage that is not related to Venezuela," Chevron spokesman Ray Fohr said.

CMA CGM expects activity in the shipping sector to bottom out during the second quarter as countries emerge from coronavirus-related lockdowns and ship operators adjust capacity, the France-based group's finance chief said.The world's fourth-largest container shipping line had anticipated a 15% year-on-year drop in its volumes in the second quarter, after a 4.6% decline in the first quarter, Chief Financial Officer Michel Sirat said."I think that the second quarter will be the low point," he told Reuters by telephone. "The shipping industry is much more resilient than in the past.

China is using the coronavirus as a cover to push territorial claims in the South China Sea through a surge in naval activity meant to intimidate other countries that claim the waters, the commander of U.S. Forces in Japan said on Friday.There has been a surge of activity by China in the South China Sea with navy ships, coast guard vessels and a naval militia of fishing boats in harassing vessels in waters claimed by Beijing, said Lieutenant General Kevin Schneider."Through the course of the COVID crisis we saw a surge of maritime activity," he told Reuters in a phone interview.

ABB has signed a contract to support icebreaking LNG carrier Christophe de Margerie with remote diagnostics services for increased safety and performance as the vessel completed the transit of the Northern Sea Route, bound for China with Yamal LNG cargo two months earlier than usualThe pioneering icebreaking liquified natural gas (LNG) carrier Christophe de Margerie will now have round-the-clock remote support provided through ABB's global network of eight ABB Ability Collaborative Operations Centers.