Maritime Vessels Directory
Filters
Type
Flag
Port
Companies
Year
Gross Tonnage
Maritime News

Supply chain issues tied to liner shipping have been front page news throughout 2021; just about everyone agrees that there's a problem. The underlying cause is right out of Economics 101: a surge in demand for moving containerized cargo, in the face of "inelastic" throughput capacity (which includes vessels and their landside interfaces to surface transportation, trucks and rail) that could not handle the swell, attributable to re-stocking of containerized cargo as economic activity recovered from the pandemic induced jolts.

AMS Global helped out in a most unusual project for the marine consulting and safety firm, helping to return The Floating Head back to the water,  33 years after it was first created.The Floating Head, a sculpture created by artist Richard Groom, was the centrepiece for Glasgow's 1988 Garden Festival. It has been carefully restored over the past six months, and is now on public display at Canting Basin at Govan Docks, adjacent to Glasgow Science Centre, for the next four weeks.Inspired by the carvings on Easter Island, the sculpture was built with support from Govan Shipbuilder Ltd, using the same method used to construct the Mulberry harbours during WWII.

Barge freight costs for moving grains in the Midwestern United States spiked on Thursday due to ongoing logistical problems more than two weeks after Hurricane Ida, while CHS Inc said the timeline to reopen its terminal remains uncertain.CHS Inc, a farmer cooperative and grain trader, said it expected its Myrtle Grove, Louisiana, grain export terminal to be operational by the height of the U.S. corn and soy harvest but could not be more specific.The terminal, which unloads grain barges and loads ocean-going vessels for export, remains without power from the local utility provider and repair crews are using an onsite generator, it said. Power will have to be restored to resume shipments.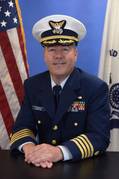 Freehill Hogan & Mahar LLP Partner Daniel Fitzgerald retired from the U.S. Coast Guard Reserve in a ceremony at U.S. Coast Guard Headquarters in Washington D.C., this summer.Rear Admiral Melissa Bert presided over the ceremony, which was attended by family, friends and Coast Guard colleagues who worked with Fitzgerald over the past 28 years.  Fitzgerald retired from his last duty assignment in Washington D.C. where he served as the Senior Reserve Judge Advocate (RJAG) for the entire Coast Guard Reserve. He was presented with the Meritorious Service Medal for his performance of duties with the Office of Legal Policy & Program Development.

Several south Louisiana ports are requesting federal assistance to bolster recovery efforts in the wake of Hurricane Ida.On August 29, Ida made landfall in southeast Louisiana as a category 4 storm, heavily impacting local infrastructure, waterways and communities.The Lower Mississippi River opened three days later, and by September 2, the Port of New Orleans (Port NOLA) resumed limited operations and became fully operational September 7.  Although operations resumed, there remains ongoing assessment of needs, and supply chain disruptions also continue.