NAVIGATOR MARINER
| Type | Date of Build | FlagValue | RegisterValue | Port of Regestry |
| --- | --- | --- | --- | --- |
| Liquefied Gas Carrier (LPG) | 2000-10-30 | Liberia | | MONROVIA |
| IMO Number | Official Number | Call Sign |
| --- | --- | --- |
| 9178678 | 15938 | D5DP4 |
| Legnth | Breadth | Gross tonnage | Net tonnage | Deadweight tonnage |
| --- | --- | --- | --- | --- |
| 159 | 26.03 | 17980 | 5395 | 23272 |
NAVIGATOR MARINER Owner, Manager, Shipyard
Maritime News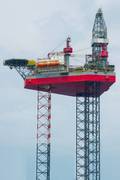 Singapore's Keppel Offshore & Marine, a company famous for its offshore rig construction, is set to undergo a major transformation, look for opportunities as a developer and integrator of offshore energy and infrastructure assets, and exit the offshore rig building business.The company will be restructured into three parts, separating construction and ownership of legacy drilling rig assets from its core operations, "which will be slimmer, asset-light and people-light.""Keppel Corporation announced today that amidst the global energy transition and major disruptions facing the oil industry, the Company will carry out a comprehensive transformation of its wholly-owned subsidiary
Viking Line's flagship Viking Glory was floated out from its building dock at XSI Shipyard in Xiamen, China, on Tuesday.The new 222.6-meter, 63,800gt ro-pax vessel is due to enter service on the Stockholm-Åland-Turku route in early 2022. It will have capacity for 2,800 passengers in 922 cabins and freight capacity of 1,500 lane meters.The vessel was ordered in 2017 and was initially scheduled to enter service in 2020 following planned delivery at the end of 2020, but the COVID-19 pandemic has impacted project timelines.

Japan's Kawasaki Heavy Industries has ordered a Corvus Energy battery-based energy storage system (ESS) to integrate it into the zero-emissions all-electric propulsion and electrical systems aboard the "e5 tanker" under construction for Asahi Tanker.The battery-powered vessel was designed by e5 Lab Inc., a consortium of leading Japanese shipping and maritime services companies, including Asahi Tanker Co., Ltd., set up to build infrastructure services focused on electrically powered vessels. The vessel for Asahi Tanker is the first of two all-electric vessels to be built from the e5 Lab initiative and is expected to go into service in bunkering operations in Tokyo Bay by 2022.

Responders are searching by air and sea to locate a barge crew member who went missing Tuesday near mile marker 105 in the Lower Mississippi River, the Coast Guard said.The Coast Guard said its watchstanders in New Orleans were notified around 3 p.m. Tuesday that one of Zito Fleeting's barge workers had fallen overboard near Jefferson Heights in Jefferson Parish, La. Missing is 44-yeard-old Elisander Alvardo, last seen wearing coveralls and no life jacket.The Coast Guard issued an Urgent Marine Information Broadcast and directed the launch of search and rescue assets to search for the overboard mariner.

Satellite communications company Inmarsat said it has secured a fleet-wide agreement with Tidewater to upgrade the majority of the offshore support vessel (OSV) owner's active fleet to Fleet Xpress, complete with advanced vessel technology efficiencies solutions and enhanced and reliable communications for crews.Tidewater was one of the largest users of Inmarsat's legacy iFusion service, which was scheduled for network shutdown on December 31, 2020. Tidewater and Inmarsat created a joint project team and comprehensive plan to fast track vessel installations and upgrades to deliver the project in six months, with a scope of 60 active vessels