Maritime Vessels Directory
Filters
Type
Flag
Port
Companies
Year
Gross Tonnage
Maritime News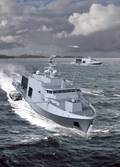 The Belgium Naval & Robotics consortium, composed of Naval Group and ECA Group, won the contract to supply 12 minehunting vessels to the Belgian and Dutch navies. Equipped with around 100 drones, constituting approximately 10 drone systems (toolboxes), six ships are destined for the Belgian Navy, while the other six will be delivered to the Dutch Navy.The 10-year contract is worth nearly $2.3B. After a three-year design phase, Belgium Naval & Robotics will launch the production phase of the ships and drone systems with a first delivery expected in 2024.

"With the conversion of SAJIR, we are the first shipping company worldwide to convert a container vessel of this size to natural gas propulsion."  Richard von Berlepsch, Managing Director Fleet Management at Hapag-LloydIn its more than 170 years of existence, the Hamburg-based Hapag Lloyd  has used all kinds of solid and liquid fuels to generate energy for the propulsion of its ships. And now the shipping company has announced that it intends to convert the propulsion system of its 15,000 TEU container vessel MV SAJIR to use natural gas (methane), a world-first.The contract for the conversion was signed with Hudong Hondhoa Shipbuilding (Group) Co, Ltd.

A bulk cement carrier that ran aground off beaches of Al-Fazayah Beach, Salalah in Oman has been refloated in one piece and without no damage to the environment, said the company behind the salvage operation, Resolve Marine Group.The partially loaded vessel, RAYSUTT II, departed Port of Salalah in May of last year when the port was evacuated due to adverse weather conditions. The vessel lost headway and steerage and subsequently grounded on on May 26, 2018 on Al- Fazayah Beach, a unique vacation spot which is known for the nesting of endangered sea turtles.

Maritime Administrator RADM Mark H. Buzby, USN (Ret.), announced TOTE Services, Inc. of Jacksonville Florida as the Vessel Construction Manager (VCM) for the newest class of training ship, the National Security Multi-Mission Vessel (NSMV).TOTE Services was selected by MARAD as the construction manager for selecting a shipyard and ensuring that commercial best practices are utilized to deliver the NSMV on time and on budget."The U.S. shipbuilding industry is vital to America's economic strength and security," said Administrator Buzby. "The selection of TOTE Services to work with a U.S.

Final preparations are underway for a 12-meter-long ship to set sail from Canada and attempt the world's first transatlantic crossing without a crew.The USV Maxlimer, an unmanned surface vessel, is bound for the south coast of England and will conduct deep sea surveys on the way, guided by a skipper in a control station in Britain.The voyage is expected to take about 35 days.The ship was built by Sea-Kit International, which develops vessels for the maritime and research industries, for the Shell Ocean Discovery XPRIZE, a competition to autonomously survey the sea bed.