Maritime Vessels Directory
Filters
Type
Flag
Port
Companies
Year
Gross Tonnage
Maritime News
When the maritime history books are written, 2020 will be viewed as a year of pivots, re-invention and new paradigms. By February 2020, concerns about marine fuel's sulfur content quickly shifted to near-term disruptions induced by the COVID-19 pandemic. By mid-year, with demand recovering, the conversation turned to longer term questions surrounding the moves towards reduced maritime carbon emissions and alternative fuels. How will this all impact the current fleet?Perhaps the most extreme reaction to the shifting landscape is the ongoing "pivot" of Scorpio Bulk (NYSE: SALT), an operator of mainly owned drybulk carriers
On 15 January 2021, PAO Sovcomflot (SCF Group) took delivery of SCF Timmerman, a new 174,000-cbm LNG carrier. The ship embarked upon its maiden commercial voyage the same day, and is operated under a long-term time charter agreement with Shell, which will provide SCF with an additional $165 million of contract backlog.The ship was named after Frans Timmerman, a 17th-century Dutch merchant who served as a shipbuilding mentor to the Russian emperor Peter the Great and played an important role in creating the Russian seaborne fleet.

Dutch crane specialist Huisman has signed a letter of intent with China's Yantai CIMC Raffles Offshore for the delivery of a 2,600mt Leg Encircling Crane (LEC) for OIM Wind's BT-220IU offshore wind installation unit.OIM Wind last year signed an EPC contract with CIMC for the construction of 1 + 1, BT-220IU Wind Installation Units, with the first unit scheduled for delivery by the end of 2022.Huisman said that its letter of intent with CIMC includes the option for the delivery of a LEC for a second installation unit, as well. "In order to be deployed for offshore wind installation, the crane setup of the BT-220IU unit has been optimized.

New York-listed offshore vessel owner SEACOR Marine has completed the previously announced sale of its offshore crew transfer subsidiary Windcat Workboats to the Belgian shipping and logistics group Compagnie Maritime Belge (CMB).Windcat is headquartered in Lowestoft, United Kingdom and IJmuiden, the Netherlands and has joint ventures with two local partners, FRS Windcat Offshore Logistics in Germany and TSM Windcat in France. Windcat employs approximately 180 shore-based and sea-going personnel.The sale was completed on January 12, 2021.CMB paid SEACOR Marine £32.8 million in cash, and assumed all of the approximately £20.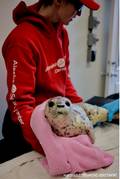 The Alaska Chadux̂ Network (ACN) and the Alaska SeaLife Center (ASLC) have finalized an agreement to develop and implement a program to respond to oil spill impacted marine mammals throughout Western Alaska, the U.S. Arctic, and Prince William Sound. The Agreement includes funding from ACN for ASLC to further develop oiled marine mammal response protocols and resources. In addition, the new program will involve opportunities to train, exercise and drill with ACN responders, including ACN partners in local communities, to support ASLC specialized veterinarians and technicians in the oil spill response environment in remote areas.