Maritime Vessels Directory
Filters
Type
Flag
Port
Companies
Year
Gross Tonnage
Supply Vessel | Flag: Marshall Islands | Port: MAJURO
Supply Vessel | Flag: Marshall Islands | Port: MAJURO
Supply Vessel | Flag: Marshall Islands | Port: MAJURO
Maritime News

The U.S. Navy is moving full speed ahead toward widespread adoption of autonomous unmanned surface vessels, having recently established a dedicated Unmanned Surface Vessel Division (USVDIV).Cmdr. Jeremiah Daley assumed command of the newly established USVDIV One during a ceremony on May 13. "To meet the challenges of the 21st Century, we must continue to innovate the surface force," Daley said. "USVDIV One will accelerate the delivery of credible and reliable unmanned systems in conjunction with increasingly capable manned platforms into the fleet."USVDIV One will oversee medium and large unmanned surface vessels including the Sea Hunter and its sister vessel, the Sea Hawk.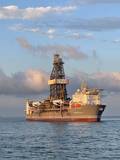 Deepwater Atlas, the world's first 8th generation drillship, was recently named at a ceremony in Singapore. The news of the naming ceremony, held late in April, was shared by Transocean, a drilling contractor that owns the vessel, via social media this week.The Deepwater Atlas and its sister rig Deepwater Titan will be the first two 8th generation units when they enter service, and, according to Transocean, will be characterized not only by their ability to drill and complete 20,000 psi prospects, but also by their industry-leading net three-million-pound hoisting capacity.

Callan Marine's newest fleet asset, the 28" cutter suction dredge (CSD) General Bradley, was christened in Morgan City, La. on Tuesday. The General Bradley will immediately commence work at the Port Bolivar Ferry Landing for the Texas Department of Transportation.At 341 feet in length and 54 feet wide, General Bradley has a maximum digging depth of 60 feet and a dredge pipe diameter of 28" inches. Constructed at the Halimar Shipyard in Morgan City, La., the diesel-electric driven General Bradley is equipped with three ABC 12DZC engines that supply 9,260 horsepower combined. It also features advanced production automation and monitoring systems.

Expedition cruising company Lindblad Expeditions will deploy Marine Learning Systems' online training platform, MarineLMS, fleetwide, following a successful pilot period. According to Marine Learning Systems, online training at sea has always been a challenge for operators due to the unique and challenging maritime operating and training context, especially in the remote locations where Lindblad Expeditions often operates. The Vancouver, B.C. based company has developed its training platform specifically for vessel operators to address the maritime context.

e1 Marine said it has appointed David Lim to the newly created role of vice president of application engineering. Based in Asia, David will focus on engineering efforts for e1 Marine's marine fuel cell generators and providing product support alongside the other partner companies.Previously vice president of business development at partner company, Element 1, David Lim has an impressive background in the product and business development, and production of renewable energy products including fuel cell technology such as fuel reformers, and fuel cell system products. Within this role he also provided consultative technical advice to e1 Marine's team prior to joining.