Maritime Vessels Directory
Filters
Type
Flag
Port
Companies
Year
Gross Tonnage
Tanker for Oil and Chemicals | Flag: Netherlands | Port: DELFZIJL
Tanker for Oil and Chemicals | Flag: Netherlands | Port: DELFZIJL
Tanker for Oil and Chemicals | Flag: Netherlands | Port: DELFZIJL
Maritime News
Stolt Tankers said it has been commissioned by chemicals company BASF to help design and build a unique new tanker capable of operating when extremely low water levels hamper river shipping on the Rhine.The Rhine, which starts in Switzerland and flows through Germany and the Netherlands before emptying into the North Sea, is a key waterway for transportation in Europe. During dry weather, barges are often unable to fully load, increasing transport costs and delaying products.Stolt Tankers and BASF set out to develop a new ship that could provide high load-bearing capacity coupled with a shallow draught, ensuring safe operations and full maneuverability at all times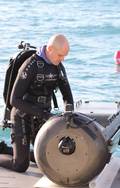 Greensea's open architecture technology on Remotely Operated Vehicles furthered by Small Business Innovation Research Phase II grantGreensea Systems, Inc. creator of OPENSEA, an open architecture robotics platform for the marine industry, won a Phase II Small Business Innovation Research (SBIR) ASAP grant totaling $1,100,000, with option for additional funding, for the continued development of Standoff Command and Control of Remotely Operated Vehicles (ROVs). This project has been funded in whole or in part with Federal funds from the Naval Air Warfare Center Aircraft Division, under Contract No. N6833521C0113.

China's Sanlin Shipyard has built and delivered a new harbor tug for the Port of Shanghai.The Robert Allan Ltd.-designed workboat Hai Gang 501 will be used by Shanghai Harbor Fuxing Shipping Service Company for berthing and unberthing in harbor as well as coastal towing services and firefighting duties in China's busiest port.The 498 gt  tug is 32 meters long with a 12-meter molded beam and 5.29-meter maximum draft. Main propulsion for the 3,680 kW tug comprises a pair of Niigata 6L28HX main engines, each rated at 1,840 kW at 750 rpm, driving a cardan shaft system to a Niigata ZP-41A Z-Peller propulsion unit with a 2,600 mm diameter fixed pitch propeller.

Expedition cruise vessel Ocean Victory, under construction at the CMHI Haimen shipyard in China, is slated to commence sea trials by the end of the week, Norwegian designer Ulstein revealed Thursday.The newbuild is the third in the Ulstein-designed CX103 INFINITY series for U.S.-based owner SunStone Ships.The 104.4-meter-long vessel offers capacity for 200 passengers in 93 suites, 68 with balconies, nine with French balconies and 16 with panoramic windows. An infinity pool has been installed, and the bridge wings have been replaced by two observation platforms.
Phoenix Lighting has introduced the SturdiSignal Series of navigation lights- a fully modular and serviceable LED navigation light.Phoenix said its design allows for tool-less repair in minutes, without any electrical work. With a spare LED module kept onboard for field repairs, a vessel can always remain safe and compliant."For years, operators and naval architects have asked Phoenix for navigation light options that are modular and as durable as our other marine LED fixtures," said Ryan Hertel, chief commercial officer at Phoenix Lighting.Hertel said the SturdiSignal navigation lights are a self-monitoring and serviceable and repairable in the field, without a skilled electrician.