Maritime Vessels Directory
Filters
Type
Flag
Port
Companies
Year
Gross Tonnage
Tanker for Chemicals & Oil Products | Flag: Liberia | Port: MONROVIA
Tanker for Chemicals & Oil Products | Flag: Liberia | Port: MONROVIA
Maritime News

The U.S. Coast Guard on Wednesday issued a warning to mariners and commercial fisherman about the dangers and legal consequences of switching off their Automated Identification Systems (AIS), citing concern over a growing number of vessels operating with the tracking equipment disabled.The Coast Guard said it has been alarmed in particular by the increase of commercial fishing and crabbing vessels disabling their AIS, purportedly in an attempt to keep their fishing spots secret from competition.AIS is a maritime navigation safety communications system adopted by the international community to help save lives and facilitate safe transit of navigable waterways.

Two of the world's biggest fertilizer producers, CF Industries Holdings Inc and Yara International Asa, are seeking to cash in on the green energy transition by reconfiguring ammonia plants in the United States and Norway to produce clean energy to power ships.The consumption of oil for transportation is one of the top contributors to global greenhouse gas emissions that cause climate change, and fertilizer producers join a growing list of companies adjusting their business models to profit from a future lower-carbon economy.

Hong Kong-headquartered dry bulk shipping company Pacific Basin announced Wednesday that Martin Fruergaard will take over as CEO, replacing longtime chief executive Mats Berglund, who has decided to retie. Fruergaard, the current CEO of Danish gas shipping company Ultragas, will relocate to Hong Kong and join Pacific Basin in early July. He brings to the role significant maritime leadership experience, having previously occupied senior positions in Maersk Bulk Carriers, Maersk Tankers and Maersk Drilling.Berglund was CEO of Pacific Basin for nine years, and his retirement will take effective July 30.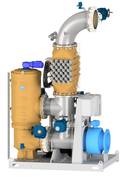 DESMI Ocean Guard A/S said a new configuration of its CompactClean ballast water management system (BWMS) geared specifically for bulk carrier vessels has been approved by both the U.S. Coast Guard and the Danish Maritime Authority.The CompactClean Bulker configuration, an additional product line to the existing CompactClean product lines, is designed for higher flowrates during de-ballast solving one of the main operational issues faced by bulk carriers complying with ballast water regulations, the manufacturer explained.Some vessel types, in particular bulk carriers, often experience a need to be able to discharge ballast water faster than the time they spend on ballast water uptake.

The U.S. Defense Logistics Agency-Energy (DLA-Energy) has awarded Crowley Solutions a five-year, $15 million contract for fuels transportation and distribution services for the Canada North Warning System locations supporting the nations' joint security efforts.Serving the Canadian arctic region, Crowley will provide ocean transportation of Aviation Turbine, Kerosene Type Jet A-1 w/FSII & CI to stations across the region, leveraging decades of experience in the Arctic. Services will include tanker transport and lighterage-to-barge deliveries at shore – including fuel over-the-shore services.