Maritime Vessels Directory
Filters
Type
Flag
Port
Companies
Year
Gross Tonnage
Maritime News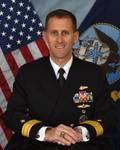 Insights on technology advances with Rear Admiral John Okon, Commander, Naval Meteorology and Oceanography Command.Rear Admiral Okon never started out to have a career in Oceanography, rather in Broadcast Meteorology. "At NY Maritime College, I studied both Meteorology and Oceanography and became equally passionate about Oceanography. Thanks to the U.S. Navy, we have a career field in both."By its very nature, the U.S. Navy operates in one of the most discussed and disected environments on earth, the oceans."The ocean is critical to National and Global Security. Back in the early 90's the ocean wasn't contested, the U.S.

Dutch shipbuilder Damen Shipyards has delivered a Fast Crew Supplier 1204 to Total Offshore B.V. a little over a month after the vessel was ordered.The crew transfer vessel is the first in the Total Offshore fleet. The company will use the FCS 1204, named Swift, to transport offshore personnel to wind farms in the North Sea."Damen and Total Offshore signed the contract on 7th October. Thanks to Damen's practice of building standardized vessels in series for stock, the FCS 1204 was ready for delivery just over a month later, after some final preparations at Damen Shipyards Hardinxveld," Damen said. The vessel was delivered on November 18, 2020.
A Nigerian court has sentenced six foreigners and one Nigerian to seven years in prison for oil theft, the Economic and Financial Crimes Commission (EFCC) said on Tuesday, three years after the navy arrested 10 suspects with a vessel carrying crude oil off the Niger Delta.The suspects - a Nigerian, two Pakistanis, three Ghanaians, one Indonesian, one Beninois and two Ukrainians - had siphoned about two thousand metric tonnes of crude oil from a loading facility belonging to Shell Petroleum, the navy said in 2017.The court on Monday sentenced seven of the 10 suspects to seven years imprisonment, EFCC spokesman Wilson Uwujaren said in a statement.

A new version of the Wave MiniBOSS IMO separator is now available.  The Series II Wave MiniBOSS offers a faster flow rate, providing 0.5m³/hr across all models .  All models of the separator are available for DC or AC power.Approved by the IMO, ABS and US Coast Guard, it is MEPC 107 (49) certified for use on all vessels from 400 Gross Tons.  The MiniBOSS system ensures that no traces of oil or other pollutants such as microplastics, are discharged overboard thanks to its use of a pre-filter and two Wavestream oil removal filters.The Wave MiniBOSS is a neatly designed bulkhead mounted system.

ARMS Reliability said it has reached an agreement with floating production solutions provider MODEC to assist with optimization and rapid strategy development of asset maintenance management philosophy for MODEC's newest floating production, storage and offloading unit (FPSO) project for the Bacalhau field, offshore Brazil. The Bacalhau FPSO, the largest ever ordered for Brazil, will be capable of producing up to 220,000 barrels of crude oil per day."The four-phase project will begin with the development of an asset management philosophy based on asset strategy management