Maritime Vessels Directory
Filters
Type
Flag
Port
Companies
Year
Gross Tonnage
Liquefied Gas Carrier (LPG) | Flag: Isle of Man | Port: DOUGLAS
Liquefied Gas Carrier (LPG) | Flag: Isle of Man | Port: DOUGLAS
Liquefied Gas Carrier (LPG) | Flag: Isle of Man | Port: DOUGLAS
Maritime News

Three mariners were rescued from a disabled barge Wednesday after their tug sank off the coast of Point Judith, R.I.At 8:17 a.m., watchstanders at U.S. Coast Guard Sector Southeastern New England, in Woods Hole, Mass., received a call via VHF Channel 16 from the tug Warthog, reporting their vessel was taking on water, and had a barge in tow. A Coast Guard Station Point Judith 45-foot Response Boat-Medium crew immediately launched to assist, and when they arrived on scene, the tug was completely submerged, and all three Warthog crewmembers were on the 108-foot barge. The weather on scene was 5-mile-per-hour winds and seas 3 to 5 feet.
Pursuant to direction from FMC Chairman Michael Khouri, the Federal Maritime Commission has issued letters to the three global carrier alliances (2M, THE, and OCEAN) requiring that certain carrier-specific trade data currently filed with the Commission quarterly, must now be submitted on a monthly basis.The Commission's Bureau of Trade Analysis (BTA) has traditionally relied on a combination of individual vessel operator confidentially provided data and information from commercially available industry data to monitor and analyze container carrier freight rates and service market trends.

On November 25, 2020, MV Hawk discharged her final jacket foundation for the Moray East Offshore Wind Farm.OHT's heavy transportation vessel carried its second load of 10jackets from Lamprell's fabrication site in Hamriyah, UAE, arriving at the Port of Nigg in the Cromarty Firth on November 12, 2020, marking the completion of OHT's eight-month transportation campaign which also used its vessels MV Osprey and MV Albatross. All told, OHT transported 48 three-legged jacket foundations averaging more than 1,000 tonnes and up to 80 meters in height.OHT were contracted by DEME Offshore, the project's balance of plant EPCI contractor, in September 2019.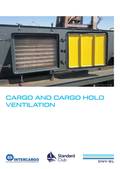 Proper ventilation is essential to preventing damage to the cargo and to ensure the safety of the crew and vessel in bulk carriers. To provide ship's masters and crew with an understanding of different ventilation requirements for bulk cargoes, INTERCARGO, The Standard Club and DNV GL, the world's leading classification society, have launched a new ventilation guide.The guide covers the main aspects on how and when to ventilate to control of humidity and to remove flammable and toxic gases released from cargoes. In addition, fumigation issues and the entry of ship's personnel into confined spaces are addressed. The guide also sets out the regulatory requirements related to ventilation.

Some coal imported into China had failed to meet environmental standards, a foreign ministry spokesman said on Wednesday in response to reports of dozens of shipments of Australian coal stalled in Chinese ports."In recent years Chinese customs have conducted risk monitoring assessments on the safety and quality of imported coal, and we found that many coal imports have failed to meet environmental standards," foreign ministry spokesman Zhao Lijian said when asked about the Australian coal at a regular briefing.China has not given an official reason why the numerous shipments have not been accepted.