MISS BET
| Type | Date of Build | FlagValue | RegisterValue | Port of Regestry |
| --- | --- | --- | --- | --- |
| Special Purpose Vessel | Jul 1 1990 12:00AM | United States of America | 971504 | NEW ORLEANS, LA |
| IMO Number | Official Number | Call Sign |
| --- | --- | --- |
| | | |
| Legnth | Breadth | Gross tonnage | Net tonnage | Deadweight tonnage |
| --- | --- | --- | --- | --- |
| 35.7408 | 7.9248 | 217 | 65 | 0 |
MISS BET Owner, Manager, Shipyard
Disc brake system producer
Maritime News

Adm. Linda L. Fagan has taken over as vice commandant of the U.S. Coast Guard, relieving  Adm. Charles W. Ray during a military change-of-command ceremony held Friday at U.S. Coast Guard Headquarters.Adm. Fagan most recently served as the commander of the Coast Guard Pacific Area, overseeing all Coast Guard operations in the Pacific, covering more than 74 million square miles of ocean, from the U.S. Western States to Asia, and from the Arctic to Antarctica."Adm. Fagan, it is an honor to welcome you as the first woman to serve as a four-star admiral in the U.S. Coast Guard, and I congratulate you as you assume the duties as our 33rd Vice Commandant," said Adm. Karl L. Schultz, Commandant, U.

Greek shipowner GasLog has taken delivery of a new 180,000m3 XDF liquefied natural gas (LNG) carrier, GasLog Wellington.The third in a series of four new vessels being built for GasLog by Samsung Heavy Industries in South Korea, the ship will go on long term charter to U.S.-based LNG exporter Cheniere.The newbuild features the latest technological developments in cargo containment, boil off gas management and propulsion, GasLog said.

The first storm to hit oil-producing regions of the U.S. Gulf of Mexico this year sent workers fleeing offshore oil platforms and cut some production.A weather disturbance in the central Gulf of Mexico was expected to become a tropical storm on Friday. It was moving north at about 14 miles per hour (22 kmh) and could bring up to 12-inches of rain to the central U.S. Gulf Coast by Saturday, the National Weather Service said.Equinor ASA on Friday said it had removed staff and shut production at its Titan platform, which is about 65 miles (105 km) off the coast of Louisiana. Chevron and Occidental Petroleum also removed staff and began taking precautions at their offshore oil and gas platforms.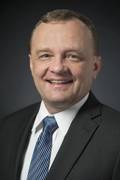 America's largest military shipbuilding company Huntington Ingalls Industries (HII) announced on Friday that Jason Sutton has been promoted to chief information officer for its Newport News Shipbuilding division, effective June 21.Sutton will be responsible for all aspects of information technology to enable Newport News to establish IT priorities and meet strategic objectives. Sutton will guide the day-to-day leadership of all information systems, while ensuring the appropriate alignment to enterprise cybersecurity and IT goals. Additionally, he will lead the HII enterprise cybersecurity and IT organizational and leadership change model to build high-performing teams.
Wärtsilä said it has signed support agreements for liquefied natural gas (LNG) carriers owned by Qatar-based shipping company Nakilat.Wärtsilä is the supplier of the LNG reliquefaction systems onboard all of the QFlex vessels covered by the agreements, which were signed in April and are valid for five years. Under the contract terms, Wärtsilä will provide 24/7 technical remote support for the vessels' onboard Gas Process Plants.Nakilat has direct access to Wärtsilä's dedicated team of LNG technical experts for specialized technical advice and remote troubleshooting.