SUMEDHA
| Type | Date of Build | FlagValue | RegisterValue | Port of Regestry |
| --- | --- | --- | --- | --- |
| Special Purpose Vessel | Jan 6 2014 12:00AM | India | | |
| IMO Number | Official Number | Call Sign |
| --- | --- | --- |
| | | |
| Legnth | Breadth | Gross tonnage | Net tonnage | Deadweight tonnage |
| --- | --- | --- | --- | --- |
| 105.3 | 12.9 | 2941 | 882 | 435 |
SUMEDHA Owner, Manager, Shipyard
Founded in 1948 by Mr. Antonio Dutriz, Agencias Navieras y Supervisiones , S.A. de C.V. (ANYSSA) has more than 50 years of experience in the shipping and inspection business.
Maritime News

The U.S. Navy announced it will scrap the USS Bonhomme Richard (LHD 6), forgoing repairs to the Wasp-class amphibious assault ship that was ravaged by a major fire in San Diego in July."We did not come to this decision lightly," said Secretary of the Navy Kenneth J. Braithwaite. "Following an extensive material assessment in which various courses of action were considered and evaluated, we came to the conclusion that it is not fiscally responsible to restore her."Although it saddens me that it is not cost effective to bring her back, I know this ship's legacy will continue to live on through the brave men and women who fought so hard to save her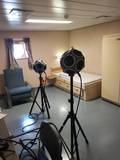 Complying with International Maritime Organization Resolution MSC.337(91) Noise Level CodeOne of the best things a marine operator can do for its crew or passengers is prioritize their comfort by reducing shipboard noise. Commercial and military marine vessels can be subject to very high noise levels produced by everything from onboard activities to aircraft. At worst, this noise can be hazardous—disruptively noisy environments can lead to discomfort, sleep-deprivation, and even hearing loss, which can in turn lead to lower job performance, safety risks, and diminished quality of life.

Our COVID-19 maritime world continues to change as our perspectives on education and training with the availability of online learning and conferencing, an increased use of webinars, and the use of simulation technology must evolve if we are to be able to continue to train and maintain skill sets as we navigate the current and predicted restrictions on movement. Changes made now may eventually become fully integrated in to future iterations of training in many industries.An increasing use in the simulated experience can be similar to or completely different from what a mariner or student would encounter on the waters.

The University of Vermont (UVM) has ordered what is touted as the first hybrid research vessel, a project which brings together Derecktor Shipyards, BAE Systems and Chartwell Marine.The 19-meter catamaran will be designed for low-emission, low-fuel-burn operations and is set for launch in April 2022. Chartwell Marine's hybrid design, which is powered by two Cummins QSB 6.7m 306hp diesel engines and two BAE AC traction motors, will provide the University with a new research and instruction platform to facilitate its advanced research operation.
OHT, the Norwegian offshore heavy transport firm, and soon to be offshore wind installation contractor has said that its shipbuilding contract for its first offshore wind turbine installation vessel has become effective."The shipbuilding contract for OHT's first WTIV (Wind Turbine Installation Vessel) "Vind 1" has reached contract effectiveness following i.a. the issuance of a Refund Guarantee by China Merchants Industry Holdings' bank and OHT's payment of the first yard installment for the vessel," OHT said Tuesday.