SJOBORG
| Type | Date of Build | FlagValue | RegisterValue | Port of Regestry |
| --- | --- | --- | --- | --- |
| Supply Vessel | 2012-03-22 | Faroe Islands | | LEIRVIK |
| IMO Number | Official Number | Call Sign |
| --- | --- | --- |
| 9591923 | | OZ2075 |
| Legnth | Breadth | Gross tonnage | Net tonnage | Deadweight tonnage |
| --- | --- | --- | --- | --- |
| 86 | 20.2 | 3942 | 1507 | 4543 |
SJOBORG Owner, Manager, Shipyard
Maritime News
Rescue services had airlifted 479 people to safety from a luxury cruise liner with engine trouble off the coast of Norway by Sunday morning and began towing the vessel to a nearby port.The Viking Sky, with 1,373 passengers and crew on board, sent out a mayday signal on Saturday as it drifted towards land in the Norwegian Sea.The airlift of passengers, many of them elderly, from the Viking Cruises ship by helicopter was halted on Sunday morning as two tugboats started steering the vessel towards the nearest port.Founder and chairman of Viking Cruises, Norwegian billionaire Torstein Hagen, said he hoped the vessel would arrive at the port of Molde on Norway's west coast by Sunday afternoon.

The Commandant of the United States Coast Guard delivered his first State of the Coast Guard address Thursday at Coast Guard Base Los Angeles-Long Beach in San Pedro.Speaking from the largest port in the nation, Adm. Karl Schultz highlighted Coast Guard security and marine safety operations, which facilitate $4.6 trillion in annual economic activity.Schultz also recognized the service and sacrifice of Coast Guard men and women deployed around the world ensuring global peace and prosperity, including servicemembers supporting U.S. Indo-Pacific Command and U.S. Central Command.

The Federal Bureau of Investigation is not taking appropriate steps to review and assess potential maritime terrorism risks facing U.S. sea ports, the Justice Department's internal watchdog has found.The audit, released on Thursday by Inspector General Michael Horowitz, found that while top FBI officials believe the country faces a low maritime terrorism threat, that view is actually based on "incomplete and potentially inaccurate information."Moreover, the audit found that the FBI had not conducted its own formal assessment of the matter.In a letter to Horowitz dated Aug.
The maritime industry has always followed a path of gradual improvement, albeit with many opting to travel the route of least resistance. In some ways, this is a good thing. A cautious approach to navigating change brings stability, assurance and predictability. This measured attitude toward managing change has been fundamental to ensuring that the commercial shipping industry remains the most financially viable transportation solution for moving most goods around the world. But, we now live in very unpredictable times, and the world around us needs more than reliable shipping services; it needs future-proof solutions.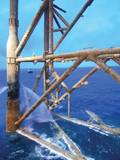 Data sharing and better understanding of how marine life interacts with manmade structures is the target for the next phase of the Insite program.What to do with offshore structures is a sticky problem for oil companies, regulators and policy makers alike, as many structures are starting to cease production in the North Sea, where some fields have been producing oil and gas since the early 1970s.Regulations, which include the OSPAR (Oslo Paris convention) state that a clear seabed should be left behind, once production has ceased, with some exceptions (platforms over a certain age and weight). But, some have argued that more should be left behind.