PARAGON
| Type | Date of Build | FlagValue | RegisterValue | Port of Regestry |
| --- | --- | --- | --- | --- |
| Tug | Aug 1 1978 12:00AM | United States of America | 596518 | SEATTLE, WA |
| IMO Number | Official Number | Call Sign |
| --- | --- | --- |
| 7802627 | | WB18183 |
| Legnth | Breadth | Gross tonnage | Net tonnage | Deadweight tonnage |
| --- | --- | --- | --- | --- |
| 32.004 | 9.7536 | 0 | 101 | 0 |
PARAGON Owner, Manager, Shipyard
Maritime News

A Singapore company has paid a NOK 7 million ($763,000) fine after it was caught trying to illegally export a barge carrier vessel from Norway for scrapping on the beaches in Pakistan, Norwegian authorities said.In 2017, inspectors from the Norwegian Maritime Authority (NMA) detained the Harrier, previously named Tide Carrier, when it suffered an engine failure and started to drift outside Jæren in Rogaland. Wirana Shipping Corporation, a company which buys discarded ships and sells them to scrap yards at beaches in India and Pakistan, was the commercial manager for the voyage and in charge of the ship's route, the purpose of the voyage and its execution.

Tankers that had been scheduled to install emissions-cutting equipment ahead of stricter pollution standards starting in 2020 have deferred their visits to the dry docks to capitalize on an unexpected surge in freight rates, three trade sources said.U.S. sanctions on subsidiaries of vast Chinese shipping fleet Cosco in September sparked a surge in global oil shipping rates as traders scrambled to find non-blacklisted vessels to get their oil to market.The rates for chartering a supertanker from the U.S. Gulf Coast to Singapore hit record highs of more than $17 million and a record $22 million to China earlier this week.By comparison, prior to the sanctions, shipping crude from the U.S.
The most complex cruise ship lengthening ever undertaken is clipping along at Fincantieri's Palermo yard.The final welding cut to Windstar Cruises' Star Breeze was completed and  the ship's 25.6-meter/84-foot prefabricated midsection was glided into place between the two halves in the drydock, an operation that took just half an hour.Overnight, Shipyard crews at Fincantieri Palermo had carefully split the ship, pulling the 4,000-ton bow forward centimeter by centimeter while a new 25.6-meter midsection waited on shiny black rollers at the far end of the 370-meter pit.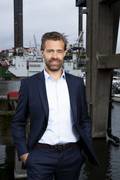 Born and raised on the water by entrepreneurial parents, Basjan Faber knew from a young age that his future and fate was in maritime, specifically ship design. Today the CEO leads a vibrant, diverse and fast-growing naval architecture firm that he co-founded with partners in 2007. Headquartered in Amsterdam, C-Job has a unique approach to its business and is expanding its international footprint, as Maritime Reporter & Engineering News discovered when we visited with him in The Netherlands last month."I have always been inspired by ships, and I knew by the end of grammar school that I wanted to be a naval architect.

America's first offshore liquefied natural gas (LNG) barge has been launched for owner Q-LNG Transport, Mississippi shipbuilder VT Halter Marine announced on Wednesday.The Q-LNG 4000 barge, designed to carry 4,000 cubic meters of LNG, with dimensions of 324' x 64' x 32'.6", will be operated as part of an articulated tug and barge (ATB) unit designed to meet the requirements of American Bureau of Shipbuilding (ABS) and the International Gas Carrier code as an LNG bunkering barge.Its tug, the Q-Ocean Services, is scheduled to launch late October. The tug will have 5,100 horsepower, powered by two GE 6L250 MDC EPA Tier 4 main engines, with Wartsila Z-drives, and dimensions of 128' x 42' x 21'.