PADRE ISLAND
| Type | Date of Build | FlagValue | RegisterValue | Port of Regestry |
| --- | --- | --- | --- | --- |
| Dredge | Sep 1 1981 12:00AM | United States of America | 639291 | NEW YORK, NY |
| IMO Number | Official Number | Call Sign |
| --- | --- | --- |
| 8101783 | | WTQ7663 |
| Legnth | Breadth | Gross tonnage | Net tonnage | Deadweight tonnage |
| --- | --- | --- | --- | --- |
| 80.772 | 15.8496 | 2820 | 846 | 0 |
PADRE ISLAND Owner, Manager, Shipyard
Albacore Research Ltd. (ARL) is the creator of ShipConstructor, an easy to use, AutoCAD-based 3D Product Modeling software for the design and fabrication of ships and offshore structures.
Maritime News

As autonomy gains a foothold in the maritime world, dredging appears next in line to transition to operations without direct human control.A new design concept unveiled by a prominent Dutch ship design and engineering company aims to deliver major power savings and a larger working window for port maintenance dredging operations.The Autonomous Underwater Maintenance Dredger (AUMD) design developed by C-Job Naval Architects is a completely submerging a dredging vessel specifically created for maintenance in port environments.

Shipbuilder Metal Shark has delivered two new pilot boats to New Orleans-based operator Belle Chasse Marine Transportation, LLC (BCMT).Designed in-house by Metal Shark and built at the company's Jeanerette, La. production facility, Jet 1 and Jet 2 are 45-foot welded aluminum Defiant-class monohull pilothouse vessels featuring an extensively proven hull design. The vessels feature a unique deck arrangement designed for pilots and customized to meet BCMT's specific requirements.Both vessels were recently delivered and are now operating on the Mississippi River, providing service to BCMT's Port of New Orleans clients.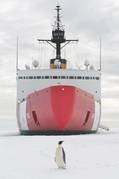 The Coast Guard needs a ship that can do more than just break ice; it needs a multi-mission ship to provide for the nation's security, asserting its sovereign rights, and protecting its long-term economic interests.  That ship is the Polar Security Cutter.Since Russia cashed the check in 1867 for the purchase of Alaska the U.S. has been an Arctic nation.  Today, it is one of eight countries that have territorial land or seas above the Arctic Circle or in the polar region (six of those countries have Arctic Ocean coastline or an exclusive economic zone above the Arctic Circle).  The U.S. has also conducted significant research activities in the Antarctic region for many years.
South Korea's leading shipbuilding conglomerate Hyundai Heavy Industries (HHI) Group has submitted an application to the European Union for approval for its takeover of the compatriot shipbuilder Daewoo Shipbuilding & Marine Engineering (DSME).According a Yonhap report,  HHI informed that the submission will be reviewed by anti-trust authorities at the European Commission, expecting the results of their call in 2020.Hyundai Heavy has been taking prerequisite steps since April to apply for the EU's mergers and acquisitions approval.In March, Hyundai Heavy signed a formal deal, worth an estimated 2 trillion won (US$1.

U.S. federal officials are calling for new safety rules following the fatal sinking of a Missouri amphibious passenger vessel in July 2018.Seventeen of the 31 people aboard the modified WWII DUKW amphibious passenger vessel, or "duck boat", Stretch Duck 7 died, when the vessel sank during a rapidly developing high-wind storm on Table Rock Lake near Branson, Mo.As part of its ongoing investigation into the July 19, 2018 accident, the National Transportation Safety Board (NTSB) issued a marine safety recommendation report on Wednesday that calls upon the U.S.