ATLANTIC OLIVE
| Type | Date of Build | FlagValue | RegisterValue | Port of Regestry |
| --- | --- | --- | --- | --- |
| Tanker for Oil and Chemicals | 2008-08-01 | Hong Kong | | HONG KONG |
| IMO Number | Official Number | Call Sign |
| --- | --- | --- |
| 9354909 | HK-2198 | VREF8 |
| Legnth | Breadth | Gross tonnage | Net tonnage | Deadweight tonnage |
| --- | --- | --- | --- | --- |
| 183 | 0 | 29266 | 12026 | 47100 |
ATLANTIC OLIVE Owner, Manager, Shipyard
Maritime News

Norway's biggest ferry company has ordered two new ferries from Havyard Design & Solutions, the first to use Havyard LAB's new three-step tool to become safer and more environmentally friendly.  Havyard LAB offers a new three-step ship design tool that incorporates a vessel's digital twin situated in simulated local conditions, a process it believes will result in a ship that is carefully adapted to its work and the waters in which it will be operating, while also cutting energy consumption, emissions and operating costs.
Following years of disruption to US soya bean exports due to the US-China trade war, the first seven weeks of the 2020/2021 marketing year, which runs from 1 September to 31 August, have seen the strongest exports ever. By October 15, 11.4 million tons of soya beans had been exported by the US, an 85.3% jump from the first seven weeks in the previous marketing year. It is also 19.4% above the previous record in the 2017/2018 marketing year in which 9.6 million tons of soya beans were exported in the same period.Average weekly exports so far this year stand at 1.6 million tons, or 22 Panamax loads (75,000 tons). This is almost double the weekly average of 880,692 tons (12 loads) last year.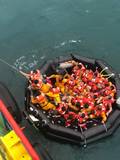 Two crew of a Malaysian offshore support vessel died on Tuesday after their ship hit a [platform] operated by state oil firm Petronas off the state of Sarawak on Borneo island.The Dayang Topaz rammed into the Baram B oil platform after its anchor cable broke in bad weather, Petronas and marine authorities said in separate statements.The ship was carrying 187 crew, 125 of whom jumped into the sea when the accident happened, about 7.7 nautical miles (14.3 km) offshore, marine authorities said. Two died but the rest were rescued.Malaysia's marine department said the extent of the damage caused had yet to be determined but no marine pollution had been detected.

The United States on Monday imposed fresh Iran-related sanctions targeting the Islamic Republic's oil sector, including the Iranian Ministry of Petroleum, in Washington's latest move to increase pressure on Tehran.The U.S. Treasury Department in a statement said it was slapping sanctions on key actors in Iran's oil sector for supporting the Quds Force, the elite foreign paramilitary and espionage arm of the Islamic Revolutionary Guard Corps."The regime in Iran uses the petroleum sector to fund the destabilizing activities of the IRGC-QF," Treasury Secretary Steven Mnuchin said in the statement.

Surging shipments into the United States are fueling record high freight costs and logjams at seaports, but transportation executives say the rally will lose steam with a second wave of COVID-19 restrictions on the cards.Container shipping companies, which move goods for customers including Amazon.com and Walmart, got stung late last year and early this year when COVID-19 halted trade around the world, and they question whether the U.S. import boom can be sustained."Let's not get carried away," Rolf Habben Jansen, chief executive of Germany's Hapag Lloyd, told reporters. "This is just a spike that no one has foreseen in an unusual period. There will be a correction to that."U.S.