Maritime Vessels Directory
Filters
Type
Flag
Port
Companies
Year
Gross Tonnage
Maritime News

Pete Buttigieg, President Joe Biden's nominee to head the U.S. Department of Transportation, has voiced his support for the Jones Act, a federal law that regulates maritime commerce in the United States.Buttigieg's comments came in response to questioning by Sen. Maria Cantwell (Dem.-Wash.) during a nearly three-hour confirmation hearing held by the Senate Commerce, Science, and Transportation Committee on Thursday."I am a big Jones Act supporter, and the state of Washington and the trade that we have related to the Jones Act to make sure that we have U.S.-flagged vessels," Cantwell said. "Sometimes it gets under attack, but I want to just hear that you support the Jones Act.

The Biden administration has temporarily suspended oil and gas leasing and permitting on federal lands and waters while it evaluates the legal and policy implications of the program, according to a Department of Interior memo.The move appears to be a first step in delivering on newly sworn-in President Joe Biden's campaign promise to ban all new federal drilling permits, part of his wider agenda to combat global climate change.The order was welcomed by environmentalists and derided by the oil and gas industry, whose largest onshore drilling companies have stockpiled permits in anticipation of a change in federal policy.U.S.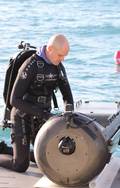 Greensea's open architecture technology on Remotely Operated Vehicles furthered by Small Business Innovation Research Phase II grantGreensea Systems, Inc. creator of OPENSEA, an open architecture robotics platform for the marine industry, won a Phase II Small Business Innovation Research (SBIR) ASAP grant totaling $1,100,000, with option for additional funding, for the continued development of Standoff Command and Control of Remotely Operated Vehicles (ROVs). This project has been funded in whole or in part with Federal funds from the Naval Air Warfare Center Aircraft Division, under Contract No. N6833521C0113.

China's Sanlin Shipyard has built and delivered a new harbor tug for the Port of Shanghai.The Robert Allan Ltd.-designed workboat Hai Gang 501 will be used by Shanghai Harbor Fuxing Shipping Service Company for berthing and unberthing in harbor as well as coastal towing services and firefighting duties in China's busiest port.The 498 gt  tug is 32 meters long with a 12-meter molded beam and 5.29-meter maximum draft. Main propulsion for the 3,680 kW tug comprises a pair of Niigata 6L28HX main engines, each rated at 1,840 kW at 750 rpm, driving a cardan shaft system to a Niigata ZP-41A Z-Peller propulsion unit with a 2,600 mm diameter fixed pitch propeller.

Expedition cruise vessel Ocean Victory, under construction at the CMHI Haimen shipyard in China, is slated to commence sea trials by the end of the week, Norwegian designer Ulstein revealed Thursday.The newbuild is the third in the Ulstein-designed CX103 INFINITY series for U.S.-based owner SunStone Ships.The 104.4-meter-long vessel offers capacity for 200 passengers in 93 suites, 68 with balconies, nine with French balconies and 16 with panoramic windows. An infinity pool has been installed, and the bridge wings have been replaced by two observation platforms.