Maritime Vessels Directory
Filters
Type
Flag
Port
Companies
Year
Gross Tonnage
Maritime News

Months of EU deliberation to decide which business activities can be marketed as green investments have produced a set of draft standards some finance officials and NGOs say are lax for the polluting shipping sector and challenging for buildings.In other cases, they strike a fair balance, they say.As the European Union pursues regulation to try to deliver the 2015 Paris Agreement on climate change, a powerful tool in channeling funding over the coming decades will be its financial taxonomy - in other words, a system of classifying activities that can be marketed as sustainable.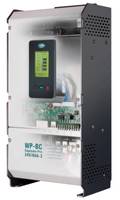 WhisperPower is ready to start shipping its new range of Supreme Pro Battery Chargers. Available in four models – 40, 60, 80 and 100 amps – the chargers/power supplies have been built to exceed the most stringent requirements of the global shipping industry.The Supreme Pro range is touted by the manufacture as the smallest 24V battery charger of its type in the world, able to run silently and keep itself cool in hot areas such as engine rooms that may otherwise compromise performance.Each Supreme Pro model offers three-stage battery charging and provides no less than three separate DC outputs for charging multiple battery banks.

America's largest military shipbuilder announced Tuesday that its Newport News Shipbuilding (NNS) division has been awarded a contract modification from General Dynamics Electric Boat in support of construction on the first two Columbia-class ballistic missile submarines.The contract modification, valued at approximately $2.2 billion, provides continued design support efforts, as well as the construction and delivery of six module sections for each of the first two Columbia-class submarines, Huntington Ingalls Industries (HII) said.As part of the contract, the Newport News, Va. shipyard will deliver the completed modules to Electric Boat for final assembly.

Uniper Energy DMCC (UED) and Neutral Fuels will collaborate to provide maritime biofuel in Fujairah, UAE.The companies will blend UED's VLSFO and Neutral Fuels biofuel, creating a maritime fuel that meets IMO standard under their ISO8217:2010 RMG380 specification, cutting emissions of carbon dioxide."The collaboration is aimed to address climate protection, the predominant social issue in the world today," said Lars Liebig, Managing Director of UED. "UED's mission is to help countries build up reliable and environmentally friendly energy supplies to support a global transition to cleaner energy. Collaborating with Neutral Fuels enables us to accelerate our efforts.

Marine electrical systems provider Vard Electro Canada's said it is setting up new operations in Houston to serve the North American maritime industry. Vard Electro US Inc. will offer the same marine electrical engineering, procurement solutions, and vessel system integration as Vard Electro, a subsidiary in the Vard Group majority-owned by shipbuilding giant Fincantieri.Andrea Qualizza, general manager for Vard Electro, said, "Vard Electro has over decades served shipyards and shipowners all over the world. We have operated in the Canadian market since 2014, and we see there is a market for our services in the U.S.