JESTAN-5
| Type | Date of Build | FlagValue | RegisterValue | Port of Regestry |
| --- | --- | --- | --- | --- |
| Supply Vessel | 1983-03-10 | St Vincent and The Grenadines | | Kingstown |
| IMO Number | Official Number | Call Sign |
| --- | --- | --- |
| 8215821 | 11180 | J8B4707 |
| Legnth | Breadth | Gross tonnage | Net tonnage | Deadweight tonnage |
| --- | --- | --- | --- | --- |
| 55.35 | 11.76 | 764 | 230 | 350 |
JESTAN-5 Owner, Manager, Shipyard
Damen is an international shipyard group but, at heart, we are still a family company. Whatever we do – whether it's in our building activities or our services – we always aim to match our customers' needs and exceed
Maritime News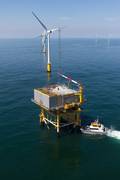 Every day we see more and more news about how the planning for new offshore wind projects continues to expand with the increasing investment from both domestic and foreign interests in these projects.  This is resulting in both developers and contractors making logistics plans to secure vessels and crew for the purposes of meeting the demands necessary to crew and operate vessels in support of future wind farm operations. Unfortunately, there are challenges associated with the evolving federal regulatory regime that are developing with this nascent industry facing both U.S.- and foreign-flag vessel owners and operators related to the crewing of such vessels.

Shipping associations have called on ship owners to inform Britain's navy of their movements before sailing into the Middle East Gulf and Strait of Hormuz because of the escalating international crisis in the region.About a fifth of the world's oil passes through the Strait of Hormuz and shipping companies are already deploying more unarmed security guards as an extra safeguard.However, in a joint note issued by the leading trade associations on Monday, ship captains were requested to register with the Royal Navy's liaison body, the United Kingdom Marine Trade Operations, and to provide their transit plans 24 to 48 hours before entering the region.
Pirates attacked a South Korean-flagged cargo ship in the South China Sea early on Monday, stealing thousands of dollars in cash and even the sailors' shoes, South Korean authorities said.Two people sustained minor injuries when seven pirates boarded the CK Bluebell and made off with $13,000 and belongings including mobile phones, clothes and shoes from the 22-strong crew, officials from the oceans and fisheries ministry said.Tougher policing has made piracy less frequent on the strategic shipping route in recent years.
A Belgian consortium has launched a project in high-wave offshore solar technology with the aim of building floating solar parks in the North Sea.Large maritime market players Tractebel, Jan De Nul Group, DEME, Soltech and Ghent University formed a consortium and announced the launch of an innovative project in the field of marine floating solar technology.The consortium strongly believe that solar photovoltaic (PV) panels in offshore waters are one of the essential future green energy sources. Combined in the same location with aquaculture and offshore wind power, this innovative technology allows for a more efficient use of available space.
Iran's Revolutionary Guards said on Friday they had captured a British-flagged oil tanker in the Gulf after Britain seized an Iranian vessel earlier this month, further raising tensions along a vital international oil shipping route.Britain said it was urgently seeking information about the Stena Impero after the tanker, which had been heading to a port in Saudi Arabia, suddenly changed course after passing through the Strait of Hormuz at the mouth of the Gulf.The Revolutionary Guards said they seized the tanker at the request of Iranian maritime authorities for "not following international maritime regulations," state television reported.