STI MAYFAIR
| Type | Date of Build | FlagValue | RegisterValue | Port of Regestry |
| --- | --- | --- | --- | --- |
| Tanker for Oil and Chemicals | 2014-10-08 | Marshall Islands | | MAJURO |
| IMO Number | Official Number | Call Sign |
| --- | --- | --- |
| 9686730 | 5175 | V7BN6 |
| Legnth | Breadth | Gross tonnage | Net tonnage | Deadweight tonnage |
| --- | --- | --- | --- | --- |
| 183.053 | 32.224 | 29735 | 13834 | 50145 |
STI MAYFAIR Owner, Manager, Shipyard
Maritime News
An Israeli-owned ship, the MV HELIOS RAY, was hit by an explosion in the Gulf of Oman overnight Thursday and a U.S. defense official said the blast left holes in both sides of the vessel's hull. The cause was not immediately clear.The vehicle-carrier ship is owned by a Tel-Aviv based company called Ray Shipping through a company registered in the Isle of Man, according to a U.N. shipping database."Investigations are ongoing. Vessel and crew are safe," the United Kingdom Maritime Trade Operations (UKMTO) said in an advisory notice on Friday. It urged vessels in the area to exercise caution.The U.S.
Spanish government veterinarians were on Friday inspecting hundreds of cows crammed aboard a ship that returned to port after months at sea in which the animals endured what one NGO described as "hellish" conditions.The Karim Allah docked at the southeastern Spanish port of Cartagena on Thursday after drifting for months through the Mediterranean, struggling to find a buyer for its 895 cattle, which were rejected by several countries over fears they had bovine bluetongue virus."The inspection will continue throughout today. The information gathered will be analyzed and appropriate decisions will be taken," the Agriculture Ministry said.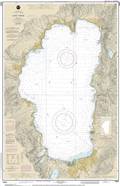 NOAA will begin to implement its sunset plan for paper nautical charts this month, starting with the current paper chart 18665 of Lake Tahoe. After August, NOAA's electronic navigational chart will be the only NOAA nautical chart of the area.This is the first traditional paper chart to be fully supplanted by an electronic chart as part of NOAA's Office of Coast Survey Raster Sunset Plan, which includes a new process to notify mariners of the transition of individual paper charts to electronic charts. These charts are easier to update and maintain, keeping mariners safer with up-to-date information on marine hazards.

A U.S. Navy warship operating in the Middle East has a dozen cases of the novel coronavirus, while another warship in the region is investigating whether some of its members are also infected.The USS San Diego which has the confirmed cases is at port in Bahrain. It sails with about 600 sailors and Marines aboard.The guided-missile cruiser USS Philippine Sea, which carries some 380 sailors, is expected to pull into port for further testing. The port was not disclosed."Once we became aware of possible COVID-19 aboard USS San Diego (LPD 22) and USS Philippine Sea (CG 58), we took immediate actions to identify, isolate, test & treat affected Sailors & Marines aboard the two ships", the U.S.

Cox Powertrain, a British manufacturer of high-power diesel outboard engines, announced it has raised £9 million from existing shareholders and a further £3 million loan from HSBC UK Equipment Finance to allow the company to expand and ramp up production of the CXO300 outboard engine.Since 2007, Cox Powertrain has been continuously backed by private investors. Production of the CXO300 began in May 2020 and since then, the CXO300 has been shipped to more than 16 territories across the globe.The CXO300 is built at Cox Powertrain's HQ in Shoreham, U.K., where £6.