GULF JUMEIRAH
| Type | Date of Build | FlagValue | RegisterValue | Port of Regestry |
| --- | --- | --- | --- | --- |
| Tanker for Chemicals & Oil Products | 2008-12-22 | Bahamas | | NASSAU |
| IMO Number | Official Number | Call Sign |
| --- | --- | --- |
| 9381823 | 8001580 | C6XK9 |
| Legnth | Breadth | Gross tonnage | Net tonnage | Deadweight tonnage |
| --- | --- | --- | --- | --- |
| 183 | 32.2 | 29508 | 11943 | 46488 |
GULF JUMEIRAH Owner, Manager, Shipyard
Maritime News

Ocean Voyages Institute's marine plastic recovery vessel, S/V KWAI, docked at the port of Honolulu at the end of June after a 48-day expedition successfully removing 103 tons (206,000 lbs.) of fishing nets and consumer plastics from the North Pacific Subtropical Convergence Zone (more commonly known as the Great Pacific Garbage Patch or Gyre).The Pacific Gyre, located halfway between Hawaii and California, is the largest area with the most plastic, of the five major open ocean plastic accumulation regions, or Gyres, in the world's oceans.
Ireland-based tanker shipping company Ardmore Shipping Corporation confirmed Tuesday that it received and turned down an unsolicited acquisition proposal last month from larger competitor Hafnia Limited.BW Group's Hafnia said it sent a letter on June 19 to the chairman of Ardmore's board outlining its proposal and inviting discussion regarding an all-stock transaction.Ardmore, which owns and operates a fleet of medium range (MR) product and chemical tankers ranging from 25,000 to 50,000 deadweight tonnes, said that it reviewed the proposal and turned it down within two weeks.

Over the course of several days, Halter Marine Inc. celebrated multiple milestones on the Auxiliary Personnel Lighter–Small (APL(S)) program. The Pascagoula, Miss. shipbuilder launched the first two berthing barges, erected modules on the third barge and laid the keel on the fourth barge.In September 2018, the company received the initial contract to design and build two units, with options for four additional units. The company expects to deliver the first two APLs this fall, while the third vessel is due to be delivered in the first quarter of 2021. Construction on the fourth vessel is expected to be complete in the summer of 2021.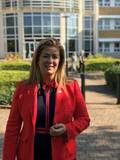 Global maritime charity Sailors' Society announced Sara Baade has been appointed as its new chief executive officer, starting in September 2020.Baade has a strong background in management and strategic policy and brings extensive experience in leading an international welfare charity from her current role as CEO of The Army Families Federation. Her career also includes working as a senior civil servant for the Department of Business Innovation and Skills, a directorship at the charity UK Skills and substantial experience in investment banking.

Remote monitoring and reporting platforms provider Reygar says it is working with offshore renewables services company CWind to develop a new communication safety feature within its BareFLEET fleet monitoring system.In an effort to simplify communications between the bridge and shore team while the vessel is in transit, the companies have partnered to test and deploy an upgrade to BareFLEET that alerts the master to record their presence on the bridge at regular intervals. BridgeWatch, a software upgrade for BareFLEET's reporting console