NISSOS SANTORINI
| Type | Date of Build | FlagValue | RegisterValue | Port of Regestry |
| --- | --- | --- | --- | --- |
| Tanker for Oil | 2012-03-30 | Greece | | PIRAEUS |
| IMO Number | Official Number | Call Sign |
| --- | --- | --- |
| 9592288 | 12107 | SVBM4 |
| Legnth | Breadth | Gross tonnage | Net tonnage | Deadweight tonnage |
| --- | --- | --- | --- | --- |
| 249.97 | 0 | 61320 | 35877 | 115724 |
NISSOS SANTORINI Owner, Manager, Shipyard
Maritime News

Towing vessels and barges are lining up near Memphis, Tenn. after a significant structural crack discovered on the I-40 Hernando de Soto Bridge bridge led the U.S. Coast Guard to halt vessel traffic in the area.At least 16 vessels with a total of 229 barges are waiting to transit in either direction after vessel traffic was restricted between mile markers 736 and 737 on the Lower Mississippi River, the Coast Guard said on Wednesday afternoon."Based on the current information available, we have closed a portion of the Lower Mississippi River out of an abundance of caution," said Coast Guard Capt. Ryan Rhodes, captain of the Port of Memphis. Memphis is the fifth largest inland port in the U.S.

Sea Cloud Spirit has been delivered to Sea Cloud Cruises from the Vigo, Spain shipyard, and its maiden voyage is set for September 14, 2021, for a 10-night roundtrip Rome to Rome. The plan is to have the ship spend the fall in the Western Mediterranean and the upcoming winter season in the Canary Islands. As cruising makes its return, the new build with a capacity of only 136 guests, is expected to become a nice alternative for younger guests looking for a smaller cruise experience.Sea Cloud Spirit is a modern sailing ship, offering guests plenty of space under the open sky, flexible dining times (both inside and outside), balcony cabins, an exclusive and spacious spa/wellness area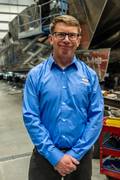 Bellingham, Wash. shipbuilder All American Marine (AAM) said it has appointed Terry Federer as business development manager, effective May 10. Federer takes over the role from Ron Wille, who was recently named president and COO.In his new role, Federer will focus on the continued expansion of the aluminum shipbuilder's presence in the national and international maritime markets. AAM, now part of Bryton Marine Group, builds highspeed passenger boats, hybrid vessels, dinner cruise boats, patrol vessels and research vessels. It is currently completing the first hydrogen powered passenger vessel in the U.S.

Israeli maritime tech venture capital firm theDOCK said it plans to launch a second fund—Navigator II—that will focus on investments in digital solutions attending to the needs of maritime, supply chain and offshore operations.The maritime-focused startups backer, which closed its first fund, Navigator I, in 2018, said it has seen an accelerating deal flow of startups and compelling investment opportunities in the domain alongside impressive performance of past investments and more strategic investors expressing interest to become limited partners (LP) in the fund.
A team of maritime industry partners has set out to develop new liquefied CO2 carrier designs as carbon capture and storage (CCS) projects advance globally in support of net negative ambitions."CCS has the potential to make a significant contribution to global emissions reduction strategies and safe and efficient transport of liquefied carbon is going to be key to realizing these goals," said Patrick Janssens, vice president for global gas at ABS, which has embarked on a joint development project (JDP) alongside Hyundai Mipo Dockyard Co., Ltd. (HMD), Korea Shipbuilding & Marine Engineering Co.