DOLPHIN OFFSHORE ENTERPRISES (MAURITIUS) PVT LTD
Port Louis Mauritius
5 President John Kennedy Street
Port Louis
Port Louis
Mauritius
Ships
Barge | Flag: Mauritius | Port: PORT LOUIS
Offshore Support Vessel | Flag: Mauritius | Port: PORT LOUIS
Maritime News

Substandard maintenance was found to be a major contributing factor at the root of a 2019 catastrophic engine room fire aboard the DFDS ro-ro vessel Finlandia Seaways in April 2018, U.K. accident investigators found.The Lithuanian registered vessel was in transit from Zeebrugge, Belgium to Rosyth, U.K., when it suffered a catastrophic main engine failure that caused serious structural damage to the engine and a fire in the engine room. The vessel's third engineer, who was on duty in the engine room at the time, suffered serious smoke-related lung, kidney and eye injuries during his escape.According to a report by the U.K.
An Israeli-owned ship, the MV HELIOS RAY, was hit by an explosion in the Gulf of Oman overnight Thursday and a U.S. defense official said the blast left holes in both sides of the vessel's hull. The cause was not immediately clear.The vehicle-carrier ship is owned by a Tel-Aviv based company called Ray Shipping through a company registered in the Isle of Man, according to a U.N. shipping database."Investigations are ongoing. Vessel and crew are safe," the United Kingdom Maritime Trade Operations (UKMTO) said in an advisory notice on Friday. It urged vessels in the area to exercise caution.The U.S.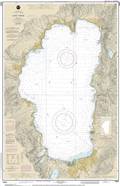 NOAA will begin to implement its sunset plan for paper nautical charts this month, starting with the current paper chart 18665 of Lake Tahoe. After August, NOAA's electronic navigational chart will be the only NOAA nautical chart of the area.This is the first traditional paper chart to be fully supplanted by an electronic chart as part of NOAA's Office of Coast Survey Raster Sunset Plan, which includes a new process to notify mariners of the transition of individual paper charts to electronic charts. These charts are easier to update and maintain, keeping mariners safer with up-to-date information on marine hazards.

A U.S. Navy warship operating in the Middle East has a dozen cases of the novel coronavirus, while another warship in the region is investigating whether some of its members are also infected.The USS San Diego which has the confirmed cases is at port in Bahrain. It sails with about 600 sailors and Marines aboard.The guided-missile cruiser USS Philippine Sea, which carries some 380 sailors, is expected to pull into port for further testing. The port was not disclosed."Once we became aware of possible COVID-19 aboard USS San Diego (LPD 22) and USS Philippine Sea (CG 58), we took immediate actions to identify, isolate, test & treat affected Sailors & Marines aboard the two ships", the U.S.

Cox Powertrain, a British manufacturer of high-power diesel outboard engines, announced it has raised £9 million from existing shareholders and a further £3 million loan from HSBC UK Equipment Finance to allow the company to expand and ramp up production of the CXO300 outboard engine.Since 2007, Cox Powertrain has been continuously backed by private investors. Production of the CXO300 began in May 2020 and since then, the CXO300 has been shipped to more than 16 territories across the globe.The CXO300 is built at Cox Powertrain's HQ in Shoreham, U.K., where £6.