TUG ALLIE B, INC.
Tampa United States
3902 Henderson Boulevard
Tampa
FL
33629
United States
Ships
Tug | Flag: United States of America | Port: Tampa, FL
Maritime News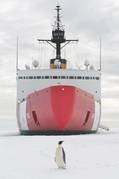 The Coast Guard needs a ship that can do more than just break ice; it needs a multi-mission ship to provide for the nation's security, asserting its sovereign rights, and protecting its long-term economic interests.  That ship is the Polar Security Cutter.Since Russia cashed the check in 1867 for the purchase of Alaska the U.S. has been an Arctic nation.  Today, it is one of eight countries that have territorial land or seas above the Arctic Circle or in the polar region (six of those countries have Arctic Ocean coastline or an exclusive economic zone above the Arctic Circle).  The U.S. has also conducted significant research activities in the Antarctic region for many years.
South Korea's leading shipbuilding conglomerate Hyundai Heavy Industries (HHI) Group has submitted an application to the European Union for approval for its takeover of the compatriot shipbuilder Daewoo Shipbuilding & Marine Engineering (DSME).According a Yonhap report,  HHI informed that the submission will be reviewed by anti-trust authorities at the European Commission, expecting the results of their call in 2020.Hyundai Heavy has been taking prerequisite steps since April to apply for the EU's mergers and acquisitions approval.In March, Hyundai Heavy signed a formal deal, worth an estimated 2 trillion won (US$1.

U.S. federal officials are calling for new safety rules following the fatal sinking of a Missouri amphibious passenger vessel in July 2018.Seventeen of the 31 people aboard the modified WWII DUKW amphibious passenger vessel, or "duck boat", Stretch Duck 7 died, when the vessel sank during a rapidly developing high-wind storm on Table Rock Lake near Branson, Mo.As part of its ongoing investigation into the July 19, 2018 accident, the National Transportation Safety Board (NTSB) issued a marine safety recommendation report on Wednesday that calls upon the U.S.

Pirates attacked an Italy-flagged offshore supply vessel in the southern Gulf of Mexico, injuring two crew members, the Mexican Navy said on Tuesday, in the latest outbreak of robbery and piracy to hit oil platforms and infrastructure in the area.One of the crew members of the vessel, Remas, received a bullet wound, and the other suffered a concussion, and both were transferred to a nearby hospital, the Navy said in a statement.Owned by Italian offshore contractor Micoperi, Remas is a supply vessel for Mexico's oil industry.
Japanese companies have decided to proceed with the deepwater floating production, storage, and offloading system (FPSO) charter project for the Petrobras-operated Búzios pre-salt oil field located offshore Brazil.MODEC, Mitsui & Co., Mitsui O.S.K. Lines (MOL), and Marubeni Corporation have agreed that Mitsui, MOL, and Marubeni will invest in a long-term charter business currently promoted by MODEC for the purpose of providing  FPSO for use on the Búzios field off the coast of Brazil.Based on these agreements, Mitsui, MOL and Marubeni will invest in Buzios5 MV32 B.V. (MV32), a Dutch company established by MODEC, and the Companies will proceed with the Project jointly.