TSUNEISHI SHIPBUILDING CO., LTD. TSUNEISHI FACTORY
Ships
Maritime News

The United States has an opportunity to accelerate offshore wind energy growth, and benefit from 28 new gigawatts of wind power and $1.7 billion in U.S. Treasury revenue by 2022, according to a study released by the energy intelligence group Wood Mackenzie. Apart from the benefits to the Treasury, the offshore wind industry in the U.S. could create 80,000 jobs annually from 2025 to 2035.Commissioned by four energy industry groups, American Wind Energy Association (AWEA), National Ocean Industries Association (NOIA), New York Offshore Wind Alliance (NYOWA), and the Special Initiative on Offshore Wind (SIOW) at the University of Delaware
BAE Systems has begun construction on the MV Magdalen, an 8,500 cubic yard capacity trailing suction hopper dredge for Weeks Marine, Inc. Executives from the two companies gathered this week at the BAE Systems Mobile shipyard to oversee the initial cutting of steel for the vessel's first module, which will weigh 130 tons. When complete in 2014, the entire vessel will measure 340 feet long and 79 feet wide, with a draft of 27 feet.  "A tremendous amount of effort has led us to this point," said Vic Rhoades, director and general manager at BAE Systems Southeast Shipyards Alabama. "As a team, we will move forward together to construct and deliver the finest dredge for the U.S.

Three cranes collapsed at India's largest container port on the outskirts of Mumbai due to strong winds on Wednesday, police and port officials said.Heavy rainfall has hit India's west coast since Monday night, flooding parts of the financial capital. Wind speeds picked up on Wednesday afternoon, officials said.No one was injured when the cranes collapsed at Jawaharlal Nehru Port Trust, Navi Mumbai Police Commissioner Sanjay Kumar said in a Tweet.The port is still assessing the impact of the collapse on the operations, its chairman, Sanjay Sethi, told Reuters.

Following the delivery of the expedition cruise vessel Hondius in 2019, Oceanwide Expeditions ordered a second vessel from Croatian shipyard Brodosplit, due for delivery by the end of 2021.Hondius and the new sister vessel Janssonius are said to be the first vessels in the world to be built according to the LR PC6 class, which meets the latest Lloyd's Register requirements for Polar Class 6 vessels.SCHOTTEL, which offers a series of ice-strengthened propulsion systems, said it has been selected again to supply highly reliable main and auxiliary propulsion units.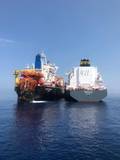 OLT Offshore LNG Toscana's floating regasification unit FSRU Toscana received its 100th LNG cargo via the ship-to-ship from the Bonito LNG carrier on July 31, 2020.Per the owner, OLT Terminal has, over the years, received LNG from the main exporting countries such as: Algeria, Cameroon, Egypt, Equatorial Guinea, Nigeria, Norway, Peru, Qatar, Trinidad and Tobago, United States, Spain, Belgium, and the Netherlands.The total quantity of LNG discharged so far is approximately 13.8 million liquid cubic meters, OLT Offshore said in a statement this week.Since October 2018, the Terminal has been working at 100% of capacity.