SHINDONG DIGITECH CO., LTD.
Products
SHIP`S ELECTRONIC, SHIPBUILDING FACILITY
Busan Republic of Korea
1213-1, Choryang 1-dong, Dong -ku, Busan
Busan
Republic of Korea
Maritime News

The U.S. Navy announced it will scrap the USS Bonhomme Richard (LHD 6), forgoing repairs to the Wasp-class amphibious assault ship that was ravaged by a major fire in San Diego in July."We did not come to this decision lightly," said Secretary of the Navy Kenneth J. Braithwaite. "Following an extensive material assessment in which various courses of action were considered and evaluated, we came to the conclusion that it is not fiscally responsible to restore her."Although it saddens me that it is not cost effective to bring her back, I know this ship's legacy will continue to live on through the brave men and women who fought so hard to save her

Swedish ferry company Stena Line said it has taken ownership of its newest ferry, Stena Embla, following a handover ceremony in Weihai, China. The vessel is the third of five new next-generation E-Flexer RoPax vessels that are being constructed at the CMI Jinling Weihai Shipyard, as part of an extensive modernization of the company's fleet. It is last of three new vessels due for the Irish Sea, which marks the end of a seven-year development program totaling a £400 million investment in new ferries and port infrastructure in the regionThe vessel will now embark on a six-week journey to the U.K.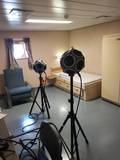 Complying with International Maritime Organization Resolution MSC.337(91) Noise Level CodeOne of the best things a marine operator can do for its crew or passengers is prioritize their comfort by reducing shipboard noise. Commercial and military marine vessels can be subject to very high noise levels produced by everything from onboard activities to aircraft. At worst, this noise can be hazardous—disruptively noisy environments can lead to discomfort, sleep-deprivation, and even hearing loss, which can in turn lead to lower job performance, safety risks, and diminished quality of life.
OHT, the Norwegian offshore heavy transport firm, and soon to be offshore wind installation contractor has said that its shipbuilding contract for its first offshore wind turbine installation vessel has become effective."The shipbuilding contract for OHT's first WTIV (Wind Turbine Installation Vessel) "Vind 1" has reached contract effectiveness following i.a. the issuance of a Refund Guarantee by China Merchants Industry Holdings' bank and OHT's payment of the first yard installment for the vessel," OHT said Tuesday.

Tero Marine has launched its TM Insights solution, an interactive visualization tool that converts real-time data into intuitive reports and charts which, when measured against pre-determined KPIs, identify trends and uncover hidden problem areas so remedial action can be taken to improve operational efficiency.Fully integrated to work with Tero Marine's TM Master suite, TM Insights works with Microsoft's Power BI software to give companies a complete and transparent overview of business performance from any desktop or mobile device and in any location.