Diesel Intellect International
DII creates Continuous and Portable monitoring, analysis and control systems for Reciprocating engines. We manufacture cost-effective systems that are of the highest quality, reliability and accuracy, compared to any similar system in the world.
Products
DII-7 Marine Diesel Monitoring System
Englewood Cliffs USA
560 Sylvan Avenue
Englewood Cliffs
NJ
07632
USA
Ships
Special Purpose Vessel | Flag: United States of America
Maritime News

Recently I was attending the United Nations Science Technology and Innovation conference (STI Forum). While I attended to present on Wave Energy Conversion, the main subject at the conference was STEM education and STEM gender inequality. Almost every country in the world reports a lack of available STEM educated workers, and also reports that they have had problems engaging the non-male population in STEM professions.The discussions were extremely far and wide ranging, but when all was said and done, the single sense I came away with is that nobody at the United Nations had a clear idea on solving either problem. As an engineer I am struck that there is such a tight focus on STEM.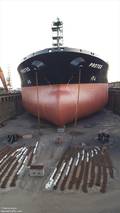 A fire swept through the engine room of a tanker owned by Venezuela's state oil company PDVSA on Monday while it was anchored at Amuay Bay near the country's largest refinery, three sources familiar with the matter told Reuters on Tuesday.The extent of the damage to the Panama-flagged Aframax tanker Proteo was not immediately clear. But it highlighted the poor state of much of the fleet belonging to PDV Marina, PDVSA's shipping subsidiary, at a time when U.S. sanctions are complicating its ability to lease vessels from third parties.Even before this fire, the Proteo had been inoperative, one of the sources said."The vessel is currently inoperative.

Natural gas is quickly becoming the "fuel of choice" for the maritime industry, not only for its potential in reducing environmentally hazardous gas emissions, but also for its reduced cost when compared to other fossil fuel-based alternatives.For natural gas to become a preferred marine fuel, its availability needs to improve, and this fact alone has hindered its growth in some parts of the world. Some of Robert Allan Ltd.'s clients are actively engaged in developing the required infrastructure to make natural gas more readily available.Robert Allan Ltd.

On April 30 the National Oceanic and Atmospheric Administration (NOAA) published a notice, requesting public comments, on a proposed "incidental harassment authorization" (IHA).  An IHA is a legal and enforceable document presenting the terms and conditions with which a company must adhere in order to protect wildlife.  In this case, the draft IHA was for Vineyard Wind, the wind energy company ready to start construction on an 800 MW offshore wind farm in the Atlantic, covering about 675 square kilometers, starting 14 miles from the coastline of Martha's Vineyard.

Maritime Reporter & Engineering News recently visited the Blount Boats facility in Warren, Rhode Island. The year 2019 might be the 'year of the woman' in the eyes of the IMO, but the two women at the head of Blount Boats – Julie & Marcia Blount (pictured) – have been a driving force in the U.S. boatbuilding market for decades, building on the business that their father Luther Blount built starting in 1949. As 2019 is Blount Boat's 70th anniversary, a full story on the yard, it's history and evolution will appear in the October 2019 edition of Maritime Reporter & Engineering News, our own 80th Anniversary edition following our founding in 1939.