Anthony Veder Rederijzaken B.V.
Ship Owners
Ship Managers
Ships
Maritime News

The U.S. Army Corps of Engineers will use $732 million in federal infrastructure funding to modernize a lock and dam on the Upper Mississippi River that are crucial for shipping grain and soybeans to export markets, officials said on Wednesday.Upgrading infrastructure is essential for the United States to maintain its place as a top global agriculture exporter, as competitors including Brazil have made improvements.The Army Corps will design and construct a lock replacement at Lock and Dam 25 on the river in Winfield, Missouri, about 50 miles north of St. Louis, according to a work plan. Opened in 1939, the system is well past its 50-year design life.

The unforeseen events of recent years have demonstrated how beneficial it can be for parties to contractually "expect the unexpected" – whether the event is extraordinary weather conditions caused by climate change or a pandemic. To help parties prepare for the unexpected, BIMCO has published a new clause.The new BIMCO Force Majeure Clause 2021 provides a comprehensive "code" for the parties to help resolve situations arising from unexpected events impacting the performance of the contracts. It is a "model" clause designed for use with all types of agreements.
Hornblower Group announced on Wednesday it has acquires two offshore vessels: the Seaward Explorer and Seaward Endeavor, previously the California Responder and Pacific Responder, respectively. Seaward Services, Inc. (SSI), part of the Hornblower Group of maritime businesses, is offering the multipurpose supply vessels for charter, with prompt availability.The Seaward Explorer and Seaward Endeavor were built at VT Halter Marine in Mississippi, commissioned by Marine Spill Response Company (MSRC) in response to the Exxon Valdez oil spill.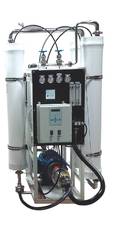 Fairbanks Morse Defense (FMD), a portfolio company of Arcline Investment Management, has acquired Maxim Watermakers, a privately-owned provider of desalination and water treatment technologies for marine defense applications based in Shreveport, La. The company's water treatments systems, which provide life-sustaining water for crews during ship deployments, position Maxim as an essential addition for FMD to provide turnkey onboard solutions and global technical support that ensure crews are always mission ready.

Marcus Jadotte has joined Crowley as senior vice president of government relations, leading the company's advocacy activities across all its businesses.Jadotte will spearhead the company's continuing advocacy for laws and regulations that support the domestic maritime industry, while expanding awareness of Crowley's growing defense and civilian government services among federal, state and local officials. He will be based in Washington, D.C.Jadotte comes to Crowley after his tenure as vice president of federal government relations at Raytheon Technologies.