ABB Automation Technologies AB
Marine Airconditioning and Ventilation Systems
+46-31 339 2200

+46-31 28 42 89
Products
Marine Airconditioning and Ventilation Systems
Molndal Sweden
Lunnagardsgatan 4
Molndal
S-43187
Sweden
Ships
Offshore Supply Vessel | Flag: Republic of Vanuatu | Port: PORT VILA
Maritime News

The sound part of the vessel Maersk Honam, which was hit by a serious fire last year, is being transported to Hyundai Heavy Industries Shipyard in South Korea, where it will be rebuilt. The sound section of Maersk Honam was successfully loaded aboard the heavy-lift vessel Xin Guan Hua on open waters outside Dubai (UAE) on Saturday, 2 February. It was expected to pass Singapore Strait on Monday, 18 February 2019. The heavy-lift vessel will deliver the 228.5-metres-long section from midship to stern at Hyundai Heavy Industries Shipyard in South Korea in March, the same yard the vessel was built in.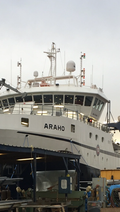 Network Innovations and its inland waterways connectivity solution eliminates "dead spot" coverage woes. And, not a moment too soon.The bane of inland operators – or at least one of many – has always been the dearth of reliable and economical vessel-to-shore communications. Even in America's heartland where cellular coverage is routinely billed as seamless, so-called 'dead spots' persist. Sometimes, this happens at the worst possible moment for an operator who has myriad far flung assets on dozens of remote inland waterways. For a long time, satellite service has not been deemed economically feasible for inland operators.
DP World has bought back British ferry and shipping freight operator P&O Ferries for 322 million pounds ($421 million), more than a decade after it sold it.DP World acquired the British shipping and logistics company in 2006 but soon sold off some assets, including P&O Ferries to its major shareholder, state holding company Dubai World.DP World announced on Wednesday it was buying the company, and a spokeswoman later told Reuters it had bought it back from Dubai World.Dubai World was at the heart of the emirate's financial crisis at the turn of the decade and was forced to restructure around $25 billion of debt in 2011.

A clash between trading house Vitol and Azerbaijan's SOCAR over Caspian Sea oil shipments is forcing Turkmenistan to slash exports of crude due to a lack of tankers.Turkmenistan typically exports about 200,000 tonnes of oil per month via the Caspian to world markets, mainly from fields operated by the UAE's ENOC and Italy's Eni, but flows have halved in recent weeks, six traders involved in operations said.That happened after Turkmen producers decided to export oil via Russia with the help of Swiss trader Vitol and ditch the previous Azeri route, operated by state-owned SOCAR.The reasons behind the change are not fully clear but trading sources attributed it to pricing disagreements.

Metal Shark has arguably been one of the more active and successful boat builders in the U.S. over the last 12 to 24 months, boasting a strong order book and expanding facilities and portfolio. In particular, the company has been able to capitalize on the burgeoning ferry market, today accounting for about a quarter of its business, as Chris Allard, CEO, explains.When you look at the ferry business today in relation to Metal Shark's business, what do you see?Metal Shark has delivered 16 high speed passenger ferries to date with five more vessels currently in process and multiple additional contracts pending.