Aaru Pvt Ltd
Bunker Supplier & Port Agent in the Maldives
(960) 333 5885, 7777 7979

(960) 333 1717
Products
MGO,
Male` Maldives
#01-01, Filaa Building-1, 1st Floor, Koli Umaru Manik Goahi
Male`
MA
2052
Maldives
Ships
Oil Carrier | Flag: Republic of Marshall Islands | Port: MAJURO
Maritime News

A UNIFIL maritime task force ship that was docked in Beirut port was damaged and some UNIFIL naval peacekeepers were injured, some of them seriously, in a huge explosion in the Lebanese capital, the United Nations Interim Force in Lebanon said in a statement on Tuesday."UNIFIL is transporting the injured peacekeepers to the nearest hospitals for medical treatment," the statement said.UNIFIL is currently assessing the situation, including the scale of the impact on UNIFIL personnel, and stands ready to provide assistance and support to the Lebanese government, the statement added.

Three cranes collapsed at India's largest container port on the outskirts of Mumbai due to strong winds on Wednesday, police and port officials said.Heavy rainfall has hit India's west coast since Monday night, flooding parts of the financial capital. Wind speeds picked up on Wednesday afternoon, officials said.No one was injured when the cranes collapsed at Jawaharlal Nehru Port Trust, Navi Mumbai Police Commissioner Sanjay Kumar said in a Tweet.The port is still assessing the impact of the collapse on the operations, its chairman, Sanjay Sethi, told Reuters.

Following the delivery of the expedition cruise vessel Hondius in 2019, Oceanwide Expeditions ordered a second vessel from Croatian shipyard Brodosplit, due for delivery by the end of 2021.Hondius and the new sister vessel Janssonius are said to be the first vessels in the world to be built according to the LR PC6 class, which meets the latest Lloyd's Register requirements for Polar Class 6 vessels.SCHOTTEL, which offers a series of ice-strengthened propulsion systems, said it has been selected again to supply highly reliable main and auxiliary propulsion units.
Ocean explorer and Tiburon Subsea CEO Tim Taylor and his "Lost 52 Project" team have employed advanced underwater technology to discover and scan WWII Submarine USS S-35 (SS-140) offshore Hawaii.This is the 7th US WWII submarine discovery for Taylor and his team, the most recent discovery using an applied combination of autonomous underwater vehicles (AUV's), remotely operated vehicles (ROV's) and advanced 4D Modeling photogrammetry.The USS S-35, built at the end of WWI, launched in 1919 and commissioned in 1922 was an active US Submarine until March of 1945 and was torpedoed as a target ship on April 4th, 1946.  During WWII the S-35 made seven war patrols in the Aleutian Islands of Alaska.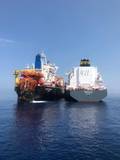 OLT Offshore LNG Toscana's floating regasification unit FSRU Toscana received its 100th LNG cargo via the ship-to-ship from the Bonito LNG carrier on July 31, 2020.Per the owner, OLT Terminal has, over the years, received LNG from the main exporting countries such as: Algeria, Cameroon, Egypt, Equatorial Guinea, Nigeria, Norway, Peru, Qatar, Trinidad and Tobago, United States, Spain, Belgium, and the Netherlands.The total quantity of LNG discharged so far is approximately 13.8 million liquid cubic meters, OLT Offshore said in a statement this week.Since October 2018, the Terminal has been working at 100% of capacity.