AAGAM DIESEL POWER PVT. LTD.
+91-278-2207930

+91-278-2414691
Products
MARINE MACHINERIES AND EQUIPMENTS
BHAVNAGAR INDIA
PANJRAPOLE DELO, DANAPITH
BHAVNAGAR
GUJ
364001
INDIA
Ships
Special Purpose Vessel | Flag: United States of America | Port: HOUSTON, TX
Maritime News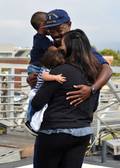 On December 22, 2018, a continuing resolution passed by Congress to fund a portion of the U.S. Government into the 2019 fiscal year expired and was not renewed resulting in a partial federal government shutdown. Among the affected Executive Departments are the Department of Homeland Security (which includes the Coast Guard and Customs and Border Protection), the Department of Transportation (which includes the Maritime Administration), the Department of Interior (which includes the Bureau of Environment and Enforcement (BSEE) and the Bureau of Ocean Energy Management (BOEM)), and the Federal Maritime Commission.

Currently, the liquefied natural gas (LNG)-powered fleet has grown globally from 118 LNG-powered vessels in operation in 2017, to 143 LNG-powered vessels in operation – with a further 135 on order and 135 LNG-ready ships either in operation or on order.According to the LNG bunkering coalition SEA\LNG, Orders for LNG-powered vessels span a variety of vessel types including tankers, cruise ships, container ships, car carriers, and Very Large Ore Carriers (VLOC)s.A press note issued by Peter Keller, SEA\LNG Chairman revealed that in 2018, new LNG-fuelled vessels included ESL shipping's delivery of its second LNG-fuelled 25
Partners in the world's largest operational agreement between shipping companies have agreed to extend their alliance until 2027.The Ocean Alliance, consisting of CMA CGM Group, COSO SHIPPING, Evergreen and OOCL, was launched in 2017 for an initial period of five years with an option for a five-year renewal.The partners confirmed they will extend to the alliance's full 10-year duration, during a signing ceremony in Hainan, China on Thursday.Rodolphe Saadé, Chairman and Chief Executive Officer of the CMA CGM Group, stated, "This new agreement with our Asian partners will enable us to propose to our customers an unrivaled and competitive service offering.

Croatia's largest shipbuilder Uljanik, which is trying to attract investors to stay afloat, extended a due diligence process until late next week after drawing the interest of potential strategic partners.Croatia's Economy Minister Darko Horvat said four potential investors were looking at Uljanik's business data and another company was also interested, but did not elaborate."I expect at least two serious offers for Uljanik at the end of this process which would then prevent its bankruptcy," Horvat told reporters.Local media reported that there were potential investors from Ukraine, Italy, Germany, China and Australia for Uljanik, which is 25 percent state-owned.
Spending on the offshore service sector will outpace spending on the onshore shale sector this year, said Rystad Energy.According to Rystad's Oilfield Service Research report, service companies exposed to the offshore subsea market and the maintenance, modifications and operations (MMO) sector are set to benefit from this trend reversal.At current oil price levels, spending on land rigs, fracking and other services for the shale industry is likely to stay essentially flat in 2019. The offshore service market, too, will feel the effects of the recent oil price slide, but this sector is nevertheless projected to grow by a robust 4% this year, according to Rystad Energy forecasts.