AAGAM DIESEL POWER PVT. LTD.
+91-278-2207930

+91-278-2414691
Products
MARINE MACHINERIES AND EQUIPMENTS
BHAVNAGAR INDIA
PANJRAPOLE DELO, DANAPITH
BHAVNAGAR
GUJ
364001
INDIA
Ships
Special Purpose Vessel | Flag: United States of America | Port: HOUSTON, TX
Maritime News

Shipbuilder Austal Australia has delivered a new 118-meter fast ferry to Fred. Olsen Express.The high-speed trimaran ferry Bajamar Express is the first of two identical vessels ordered by Fred. Olsen Express in a €126 million ($142.8 million) contract in October 2017. The second vessel, Bañaderos Express, is under construction at Austal Philippines shipyard in Balamban, Cebu, and is scheduled for delivery in the first half of 2021.Capable of transporting 1,100 passengers and 276 cars at a cruising speed of more than 37 knots, the new trimaran ferries for Fred. Olsen Express feature multiple bars, kiosks, a retail shop and children's play area.
Natural gas flows to U.S. liquefied natural gas (LNG) export plants plunged this month after falling to a 20-month low in June as coronavirus lockdowns cut global demand for the fuel.Before the pandemic slashed energy demand, U.S. producers counted on LNG exports to keep growing fast as an outlet for their record gas output. But after soaring 68% in 2019 and 53% in 2018, U.S. LNG exports were only expected to rise about 7% in 2020.Gas pipeline flows to U.S. LNG export plants dropped to an average of 3.1 billion cubic feet per day (bcfd) so far in July from a 20-month low of 4.1 bcfd in June and a record high of 8.7 bcfd in February, according to Refinitiv data.With U.S.
Waterways Council, Inc.'s (WCI) Board of Directors unanimously elected Tracy R. Zea as the organization's new President and Chief Executive Officer. He will assume the new duties effective today.With a broad range of Capitol Hill, policy development and government relations expertise, Zea most recently served as WCI's Vice President-Government Relations, advocating for WCI's goals for authorizations and appropriations which support a modern, efficient, reliable inland waterways transportation system. His work also enhanced WCI's stakeholder relationship with the Corps of Engineers and the Inland Waterways Users Board.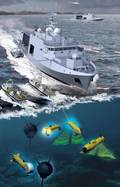 ECA Group awarded UMS SKELDAR a procurement contract to supply the UAV SKELDAR V-200 as part of the naval mine countermeasures capability replacement, a program led by Belgium Naval & Robotics – a consortium including Naval Group and ECA Group – which will supply 12 mine hunters equipped with drone systems (Toolbox) to the Belgian and Royal Netherlands navies.Working across 12 new generation ships (six each for the Belgian and Royal Netherlands Navies), this contract is the first to materialize the stand-off concept by using a Toolbox – a system composed of a variety of drones to be deployed by operators in order to fulfill autonomous mine clearance missions at sea.

Samson, developer of high-performance synthetic rope solutions, introduced three new products designed to enhance safety in mooring operations: EverSteel-X, Amsteel-X and SureSteel.EverSteel-XDesigned for semi-permanent mooring, Samson has implemented several new features designed to improve rope lifetime, operational efficiency and safety. Enhanced and proprietary coating technology brings superior abrasion resistance, permanent twist identification and a patent-pending end-for-end indication to this high-visibility rope. EverSteel-X holds third party certifications and is approved for permanent jetty mooring through the Bureau Veritas, with their POSA approval.