Maritime Vessels Directory
Filters
Type
Flag
Port
Companies
Year
Gross Tonnage
Maritime News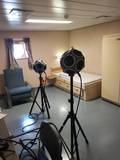 Complying with International Maritime Organization Resolution MSC.337(91) Noise Level CodeOne of the best things a marine operator can do for its crew or passengers is prioritize their comfort by reducing shipboard noise. Commercial and military marine vessels can be subject to very high noise levels produced by everything from onboard activities to aircraft. At worst, this noise can be hazardous—disruptively noisy environments can lead to discomfort, sleep-deprivation, and even hearing loss, which can in turn lead to lower job performance, safety risks, and diminished quality of life.

Our COVID-19 Maritime world continues to change as our perspectives on education and training with the availability of online learning and conferencing, an increased use of webinars, and the use of simulation technology must evolve if we are to be able to continue to train and maintain skill sets as we navigate the current and predicted restrictions on movement. Changes made now may eventually become fully integrated in to future iterations of training in many industries.An increasing use in the simulated experience can be similar to or completely different from what a mariner or student would encounter on the waters.

The University of Vermont (UVM) has ordered what is touted as the first hybrid research vessel, a project which brings together Derecktor Shipyards, BAE Systems and Chartwell Marine.The 19-meter catamaran will be designed for low-emission, low-fuel-burn operations and is set for launch in April 2022. Chartwell Marine's hybrid design, which is powered by two Cummins QSB 6.7m 306hp diesel engines and two BAE AC traction motors, will provide the University with a new research and instruction platform to facilitate its advanced research operation.
Overseas Shipholding Group (OSG) selected oneTank, a Seattle-based ballast water treatment system manufacturer, to provide an aftpeak ballast water treatment solution for vessels in their fleet.  oneTank gained IMO BWMS Code approval in July 2020 and US Coast Guard Type Approval in September 2020.  Engineered as a low-cost ($65,000 per system) treatment option intended for vessels that do not need a complex solution, it is light and compact; the system has a footprint of just four square feet and requires only 15 amps of electrical power.   oneTank focuses on the aftpeak tank."The aftpeak tank is often an afterthought," said oneTank Managing Director Kevin Reynolds.
Maritime Payment Solutions, LLC (d/b/a ShipMoney), a provider of payment solutions for maritime companies, announced two new hires. Vanessa Torres has joined as Strategic Client and Business Development Manager in Manila, and Theo Tsokos is the Client Account Manager in Athens.Torres will be responsible for managing clients in the Philippines and Southeast Asia, including Maersk and V. Ships, among others. With more than 20 years of professional experience, she will act as liaison between ShipMoney and regional client offices.Tsokos will be responsible for managing clients in Greece and Cyprus, including Scorpio and Tsakos-Columbia.