RIVERDALE MARINE LIMITED
Road Town British Virgin Islands
De Castro Street
Road Town
Tortola
British Virgin Islands
Ships
Barge | Flag: Nigeria | Port: LAGOS
Barge | Flag: Saint Vincent and The Grenadines | Port: Kingstown
Barge | Flag: Nigeria | Port: LAGOS
Maritime News

The sinking of the U.S. freighter El Faro in 2015 with the loss of 33 lives came after an overconfident captain set the ship and its poorly trained crew on a collision course with a hurricane, the National Transportation Safety Board said in its final report on Tuesday.   It was the worst U.S. maritime disaster in 30 years.   National Transportation Safety Board Chairman Robert Sumwalt said at the end of a day-long hearing that tracking the loss of the ill-fated ship on Oct. 1, 2015, was like watching a brewing storm.   "At first just a potential problem, then looming trouble, and finally, tragically, the disaster itself.

U.S. warship USS John S. McCain, which was involved in a collision with a cargo ship east of the Straits of Malacca and Singapore in August, has arrived at Fleet Activities Yokosuka for repair.   The Arleigh Burke-class guided missile destroyer DDG 56 arrived in Tokyo Bay aboard heavy lift transport vessel MV Treasure on December 5, and arrived at Fleet Activities Yokosuka on December 13 following several days of preparations.   The vessel will be repaired by U.S. Naval Ship Repair Facility-Japan Regional Maintenance Center in Yokosuka before returning to service in U.S. 7th Fleet.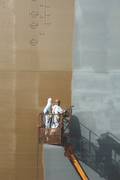 Efficiency gains, CO2 reduction and invasive species drive development   Marine coatings increasingly are center stage, not simply to maintain the integrity of vessels, but as a means to make ship ops more efficient and environmentally benign. Maritime Reporter had questons, and two executives – Andreas Glud of Hempel A/S and Michael Hindmarsh of AkzoNobel and – offered answers.   What are the drivers for coatings development in the coming five years? Glud The drive to optimize operational efficiency will continue to drive customer demand in the coming years.
Victaulic's forward-thinking vertical integration remains, at the same time, solidly connected to a rich and varied past.    It is still common to hear waterfront stakeholders refer to alternative pipe connection systems as temporary or simply as 'a new development.' While none of that could be further from the truth, the education of the marine community as to the merits of these products as an alternative to traditional flanges continues. These products – like Victaulic's market offerings – are indeed mainstream parts of the marine sector, their use limited only by the imagination of designers, builders and operators who constantly find new applications to improve their bottom line.

Benefits of ultra high molecular weight polyethylene ropes in reducing shipboard injuries   The use of High Modulus Synthetic Fiber (HMSF) mooring lines, including Ultra High Molecular Weight Polyethylene (UHMWP) lines continue to make one of the most dangerous evolutions aboard ships safer. A 2017 UK Marine Accident Investigation Branch (MAIB) safety report, however, highlights critical areas where additional engineering review and crew training is required to help ensure overall crew safety.